You cannot have a palm sized big-iPhone all the time, sometimes you need a small and a smart device to do the same. While jogging or cycling you will not keep your eye on your iPhone all the time. Today in this post we will talk about a smart watch named as Pebble which will get itself integrated with your watch and thus you will only have to take out your iPhone from your pocket unless it is really important. This watch can be used for iPhone (iOS5.0 or iOS6.0) and Android phones (version 2.3 and up) and as of now they are not compatible with Windows Phone 7 and Blackberry.
Install the Pebble application on your smartphone in order to use this device. Let us tell you the applications of this smartphone.
This smart-watch will access the GPS on your smart phone to display the speed or other information related to your cycling or jogging.
You can control the music of your iPhone using this smart-watch.
You can use the application to install them on your watch to know about the Facebook, Twitter, Calendar and Weather alerts. You can dismiss those notifications by just shaking off the watch.
You will get to see the Caller ID of the call coming on your iPhone. Moreover you will also see the notification of the mails in your inbox.
It has also got different themes to display the time (finally a thing that normal a device named 'Watch' does). The display is black and white and you can keep on changing them through the day as per our mood. This said this watch also has a backlight which can help you to watch the display at night.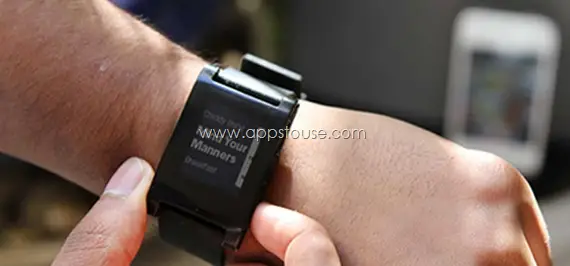 Note: If you are an android phone user then you will be able to type text on this watch but iPhone users this feature is not available as of now. It will also affect the battery of your iPhone by 5-10% throughout the day as it is similar to a Bluetooth headset and once your recharge this watch you can use it for more than 7 days in a continuous go. It has a scratch-proof LED display and it is waterproof (but no certain depth has been specified).

Working Hands on Video Demo of Pebble Smart Watch
Conclusion
This gadget is a must for the users who would love to take their phone out of their pockets when it is really important and are willing to keep their palms free all the time. I only wished, if the display was colorful but still it has many features which can help a user. You can visit their official page to get more info about it.