Nokia Lumia 920 is one such device which project the image of an ideal windows phone 8 for me, yes if you read rest of my review here you will get to know what I am trying to say here. Lumia 920 is the latest flagship device from Nokia.
Design and Form Factor
Nokia Lumia 920 going by the design follows the same design language Nokia 900 but there are considerable changes which makes it stand out from the previous designs, definitely it is one of the most interesting attractive phone design which will turn heads for sure. On the other hand it does feels very solid in hands unlike some new phones which feels very light that you might get worried about device going dead with in a single fall from your hand.
Display Quality 
Nokia lumia 920 has got a clearblack LCD IPS display with a HD resolution of around 768×1280 at a screen size of 4.5 inch capacitive touch screen which gives good clarity and makes it much less reflective and more soothing for eyes. Nokia Lumia 920 offers best in class viewing experience, indoors as well as outdoors. Yes, we did tested touchscreen during our review while wearing gloves and yes, it does work as advertised and you can use the touch screen with a banana or your car which you can see in our review videos below.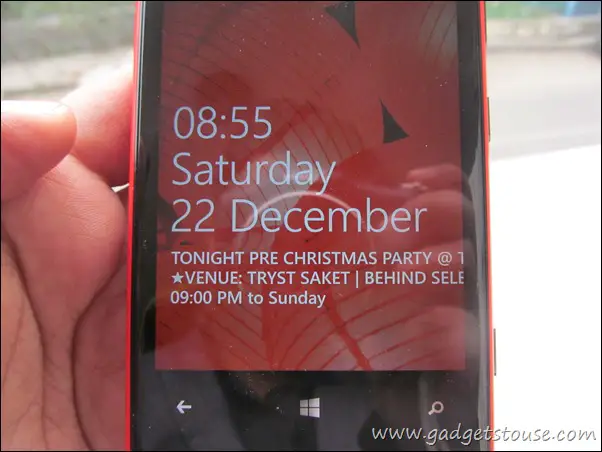 Software and User Experience
On the software front it runs Windows Phone 8.0 out of the box which has come a long way now addressing user needs and has got much better features like sending photos and contacts via bluetooth is now possible, copy paste is across the OS, access to multitasking menu is now possible with a short press of back key etc but killing apps running in background is not yet possible but might be supported in future versions of windows phone 8.
On the other hand when it comes to apps, you can find most the popular official app on windows phone 8 but quality of apps is something which is still lacking and good graphic quality games are again missing on the platform, you can see our video below on how we managed to switch from iPhone 4 to Nokia Lumia 920 and we found of the apps we required to use.
Battery Life
Nokia Lumia 920 has got a 2000 mAh battery which is quite good to support the 4.5 inch display, talking about the battery the phone lasted longer more than 1 day of usage when we used for browsing, watching videos, calling and using facebook, twitter like social networks, and during a comparison it was much better than the new iPhone 5 battery backup during our test. 
Camera
It has got a 8 MP rear camera with a LED Flash and focus assist lamp which helps the camera to focus the object in dark, during our test we found the rear camera on Nokia Lumia 920 performed really well comparing it with a iPhone 5 and Samsung Galaxy Note 2 in dark environment or low light conditions, you can watch the video below to confirm the same.
On the other hand the rear camera on lumia 920 is also powered with the Pureview motion technology which makes it much better option to record better photos and videos when the camera is shaking while you are capturing a moment, this is really a unique point about Nokia Lumia 920 which you may not find in any smartphone available in the market.
Pros
Great quality display
Awesome Camera
Great design
Solid Build Quality
Cons
Less Quality Apps
Poor or Low Graphics Games
Heavy
Nokia Lumia 920 Hands on Review
Nokia Lumia 920 Unboxing Full Review Part 1
Nokia Lumia 920 Unboxing Full Review Part 2
Conclusion
Concluding my review, Nokia Lumia 920 is a device which will make you stand out in crowd and it does offer some great camera features which are right now unique to this device only, it is one of the best build quality material you will see in a smart phone as yes it can survive scratches and falls from your hand at times without going dead, but on the software side it lacks some good quality of apps and some games with some high end graphics needed to make it an attractive option for youngsters, but let me tell you it is one of the ideal device for watching videos and multimedia stuff because of the great quality display.