Samsung has announced the new samsung galaxy s4 which is a successor to the older s3 which was one of the best selling phones after launch from samsung, Samsung galaxy S4 has come a long way both in hardware and software, as per the rummors we have,  we can say following things are almost confirmed about the new S4.
Update 15th March 4:46 am IST
Smart Scroll which allows you to scroll down the webpage with your eyes confirmed, Smart Pause which will pause the video you are watching once you some where else other than the s4 are both confirmed. The first official image of samsung galaxy s4
More Pictures of S4
Confirmed S4 Specs
7.9 mm thin
5 inch screen display
Full HD supper Amoled Screen
441 PPI
Wi FI
Detailed Confirmed Specs for S4
CPU: 1.9 Ghz Octa-core Qualcomm Snapdragon [ 8 cores Processor ]
Memory: 2 GB DDR3 RAM
Storage: 16/32/64 Gb Variants 
Battery: 2600 mAh removable battery
Connectivity: 4G LTE on all networks with LTE Roaming
Display: Full HD Super AMOLED screen, 441ppi.
Camera: 13 MP, 2 MP back camera – dual camera feature 
Body: 130 grams, Polycarbonate case in two flavors: Black Mist and White Frost
Features: Samsung Knox, S Health, S Translator, Samsung Home Sync, Air View touch which works with fingers,
Camera Features: Smart Scroll, Smart Pause, Sound and Shot, Eraser
Operating System: Android 4.2.1 Jelly Bean
New Features in Camera in S4
Another feature is confirmed which is called Sound and shot which allows you to capture 5 second of sound before you take a photo, Drama Shot allows you to take sequence of the shots of fast moving object, Eraser allows you to erase things in a photo.
S4 Translator which understands 9 languages including french, german, spanish but it does not have hindi to support as if now to translate in english, you can use it even if you don't have a internet connection.
You can control the Galaxy S4 by waving your hand in front of the camera sensor – this feature called Air Gesture.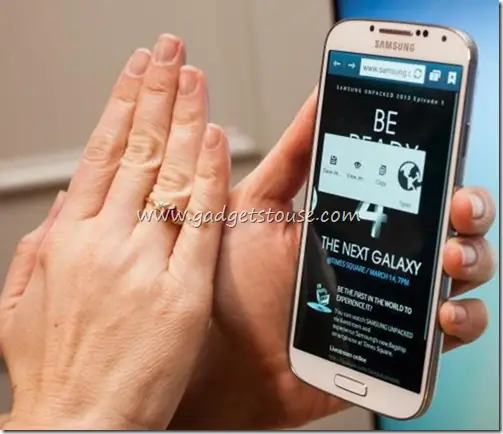 Final Full Specs of Samsung Galaxy S4
All S4 Rumored Specs and Features
It will has 8-core Exnos 5410 and will be locked at 1.8Hz. The pretty pictures are powered by a PowerVR SGX 544MP3 GPU. The display is capable of an impressive 1080p and is again massive at 5- inches. The device will weigh 138g and sits at 7.7mm thick. It holds 2gb of system RAM with a capacity of 16gb of ROM. It features a microSD slot and is powered by a burly 2600mAh lithium battery and apart from all this it will have a smart pause, smart scroll, floating touch to see the photos in big thumbnail by just hovering your finger above the photo in gallery.
S4 Rumored Photos
Image Credit
S4 Leaked Features Video Before Launch
S4 Actual Original Hands on Photos
Coming soon…
S4 Hands on Review [Video]
Coming soon…
S4 Live Stream From Launch Event
Samsung S4 Launch Unpacked 2013 live stream to be on YouTube  7pm EDT is 6pm CST or 4.30am as per indian time, you can watch the entire event live in the video frame below.
More updates coming…bookmark this page and refresh after every few minutes as we get more details about the new s4, stay tuned for the next galaxy phone.