We reported earlier that nexus 7 (16GB model with WiFi) will be available at Google Play Store at the price of 15,999 INR and now they have already started delivering that tablet to the users. There is another model of that same tablet with 32GB of Internal memory with WiFi and 3G or with Wi-Fi only, but you cannot get that on the Play Store and it seems that in India, 'Asus' who manufactured that tablet will be selling the 32Gb version of that tablet with 2 variants.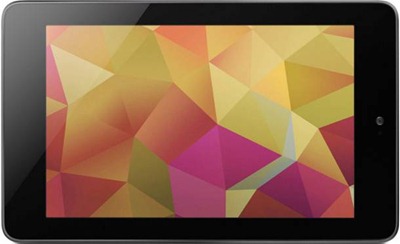 So, if you want to buy the Nexus 7 16GB model with WiFi only then you will have to logon to Play Store and to buy the 32GB + WiFi variant of the same tablet with or without 3G, you will have to go to ASUS. This 32GB model of the tablet without 3G is available at the price of 18,999 INR and the same with 3G is available 21,999 INR. All the other specification of the tablet apart from the Internal Storage capacity is same. The battery strength is great i.e. 4325mAh and it will provide the user with 9 hours of continuous HD video playback and 300 hours of Standby time.
The tablet is great for reading and playing games as it promises the LAG free environment for the users and it is giving a good fight to the iPad-mini because when a user wants to buy iPad-mini with WiFi and 3G support then he might have to pay approx 30,000 INR and Asus Google Nexus 7 offers the same in 21,000 INR. The Nvidia Tegra 3 Quad Core Processor takes the responsibility of providing the users with lag free environment and 1GB DDR3 RAM adds to it. These tabs will come with the latest version of Android i.e 4.2 Jellybean (bug-fixed version). These tablets will be covered under the warranty of 1year by Asus.