Asus india has finally launched the fonepad [quick review] in india, as we reported earlier  which allows you to do a voice calling unlike the similarly priced nexus 7, it has a 7-inch 1280x800p resolution IPS display and is powered by 1.2GHz single-core Intel Atom Z2420 processor, it has android 4.1.2 and as per ASUS the new 4.2 update will pushed to the tablet over the air in next few weeks.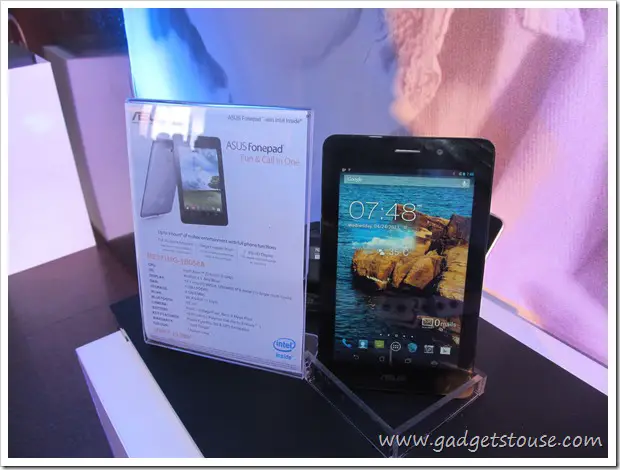 It has a MicroSIM card slot for 3G support and you also have a 3 Megapixel camera at the back which is missing in Nexus 7 and 1.2 megapixel camera on the front which is same on both Nexus 7 and Asus Fonepad. Apart for SIM card slot and voice calling, the processor on ASUS Fonepad is powered by Intel 1.2GHz Intel Atom Z2420 processor where as you get 1.2 Ghz Nvidia Tegra 3 processor. The weight of the tablet is around 340 gram and it comes in two colors options Titanium Gray / Champagne Gold.
It has some quick apps like Asus Launcher, MyLibrary, File Manager, SuperNote Lite, App Backup, App Locker preinstalled on the device. Asus fonepad is also a direct competitor to Samsung Galaxy Tab 310, as far as the storage of Fonepad is concerned you get 8 GB of internal storage out of which you get around 4.2 Gb available to the user, needless to say but you also get WIFI and bluetooth 3.0 connectivity on this device and 1 GB of RAM just like nexus 7.
ASUS Fonepad Photo Gallery
ASUS Fonepad Quick Hands on Review [Video]
ASUS Fonepad Detailed Hands on Review [Video]
ASUS Fonepad VS Nexus 7 Comparison Review [Video]
Do let us know if you have any questions about the fonepad we would love to answer your queries, do leave the in the comment section below.