Another phablet, this time from iBall was earlier launched today and listed for sale on online stores. The Andi 5L – iBall's latest offering in the phone category will be a successor to the previously released iBall Andi 5c, which was launched last year. The Andi 5L will have a 5 inch display, making it one of the bigger phones in the market. The device is currently priced at 10,490 INR, which is a little on the higher side, according to us.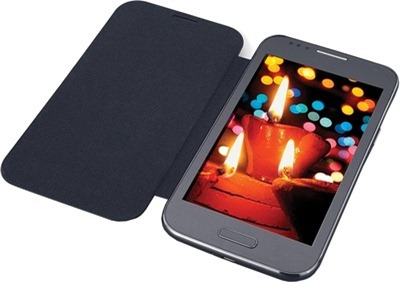 The Andi 5L runs the older Android 4.0 ICS as opposed to Jelly Bean, which is not a great thing, since most competitors are rolling out devices with Jelly Bean out of the box. In terms of styling and design, it looks like the phone has borrowed it from the Samsung Galaxy series. It has a 5 inch WVGA screen of resolution 800×480, which again is not very good but good enough for casual use. The phone, like most other phones in its category will be offering dual SIM support, and will also come with a stylus. Out of the two SIMs, one can be used on a 3G network while the other can be used on a 2G network at the same time. The device will have a 1GHz dual core processor based on the Cortex A9 architecture. iBall have included an 8 megapixel camera with LED flash for photography needs, while there is a VGA front camera for video-calling.
As far as storage and working memory is concerned, the device comes with 4GB of on board storage, and 512MB of RAM. With the Android OS taking up some space and some space reserved for apps, one will be bound to use a microSD card, which the device supports of up to 32GB in size. 512MB RAM is not great for multitasking, but should suffice for non-intensive usage and multimedia. When it comes to connectivity, the device is loaded with standard options such as Bluetooth, 3G, WiFi, 3.5mm audio jack and GPS. The device will come with an 1800mAh battery.
Conclusion
We think this will be a pretty decent device, but some better options like the Karbonn Titanium S5 are present, with not much of a difference when it comes to cost. The average buyer would compare various phones in the 10,000-12,000 INR range before going for one – and according to us the iBall does not stand much of a chance unless iBall slash the prices by 2-3,000 INR. For about 1,500 INR more you can get many more features and better software compatibility, which iBall could have considered before pricing the phone at 10,490 INR and maybe give it a better price tag.
The device can be bough on Flipkart