From the last few days we were waiting for Samsung's two mega device; Samsung Galaxy Mega 5.8 and Samsung Galaxy 6.3 which were announced earlier this month and were released in some part of Europe as well. Finally the company has released those two devices in India today. The device has a big display and has been introduced with a mid-range of price tag.
We have been writing few comparisons for you from the time the devices were announced and so far we have compared specs of Mega 5.8 and Mega 6.3 and these devices with Note II but now we will be comparing the Mega 5.8 with Samsung Galaxy S3 which was again one of the company's most sold devices. The price tag of the two devices is having a difference of around Rs.2000 INR as Galaxy S3 is available for Rs. Rs. 27,500 and Mega 5.8 will be coming for Rs.25,100.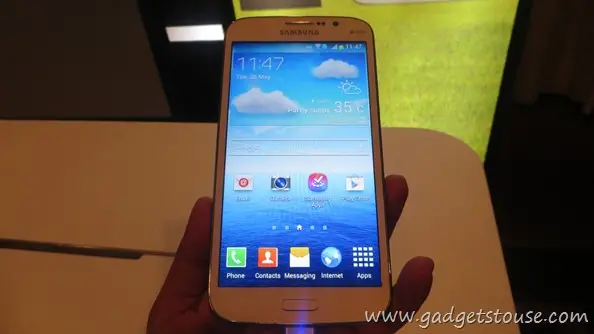 Display and Processor:
As per the name of Mega 5.8, the device got the 5.8 inches of display which is really big when you compare it with the display of Samsung S3 which is just 4.8 inches but when you compare the quality of display of this two device than S3 looks to be on the winning side. The S3 has a Corning Gorilla Glass display which could protect it from scratch and dust where as we don't see any such protecting glass on Mega 5.8. The display resolution of S3 is also better with 720 x 1280 px compared to Mega 5.8 having resolution of 540 x 960 pixels and as a result the pixel density of S3 is 306 ppi which is far better than pixel density of 190 ppi in case of Mega 5.8.
So here we can say that if you are looking for bigger display then Mega 5.8 is your device but you will have to compromise on the clarity of the display when compared with S3 which gives on you the smaller display size but with crisp clarity.
Coming toward the performance front, both the device got the 1.4 GHz processor but the difference here is S3 will be operating Quad Core processor where as Mega 5.8 will be running on Dual core processor. This itself says that the performance of S3 can be anytime better than the Mega 5.8 though mega has 1.5 GB of RAM and Galaxy S3 have 1GB of RAM.
Camera and Memory:
Coming toward the camera, Mega 5.8 got 8 MP of camera supporting 3264 x 2448 pixels with auto-focus and LED flash which is exactly same as that of Samsung Galaxy S3 but there is a difference we notice between the devices. The Samsung Galaxy S3 has a CMOS sensor and Mega 5.8 lacks this feature and hence we can expect bit improved and better image capturing on S3 compared to Mega 5.8. The secondary camera of both the device is same with 1.9 MP.
Samsung Galaxy S3 has measurably more internal storage as it has 16 GB of storage which can be expanded up to 64GB where as the basic storage available in Mega 5.8 is 8 GB which can be further expanded up to 64 GB. So again S3 earns the point in this category as well.
Battery and Features:
Coming to the battery, the S3 got 2100mAh Li-on battery where as the Mega 5.8 got 2600mAh battery. But as the S3 will be having Quad core processor and smaller display, we are expecting both the device to run for the approximately same time with the provided battery power.
Comparing the other features, S3 supports DLNA which can stream videos and movies to other devices over-the-air, using the standard DLNA protocol and this is again missed in Mega 5.8. Physically also S3 is lighter than Mega 5.8 and this can be considerable as Mega 5.8 sports bigger display than S3. The Mega 5.8 also misses NFS (Near-field-communication) which can allow wireless transactions and quick data exchange and this is something people are looking at very desperately in there device.
| | | |
| --- | --- | --- |
| Model | Samsung Galaxy Mega 5.8 | Samsung Galaxy S3 |
| Display | 5.8 inches of TFT screen, Resolution of 540 x 960Pixel (190PPI) | 4.8 inches Super AMOLED capacitive touch screen, Resolution: 720 x 1280 pixels(306 ppi) |
| OS | Android v4.2 OS(Jelly Bean) | Android OS, v4.0.4 (Ice Cream Sandwich), upgradeable to 4.1.2 (Jelly Bean |
| Processor | Dual-core 1.4GHz CPU( not sure about the cheap-set used) | 1.4 GHz Quad-core Cortex-A9 with Exynos 4412 Quad |
| RAM, ROM | 1.5GB , 8GB, expandable up to 64 GB | 1GB, 16/32/64 GB expandable up to 64GB |
| Camera | 8.0 MP, 1.9 MP | 8.0 MP, 1.9 MP |
| Battery | 2600 mAh | 2100 mAh |
| Price | 25,100 INR | 27,500 INR |
Conclusion and Price:
Mega 5.8 looks good with the spec but when it is compared to Samsung Galaxy S3 it looks pretty weak and there are few categories where Samsung S3 beats Mega 5.8. I will say if you are looking for a bigger display of 5.8 inches then Mega 5.8 can be your option but if you don't have interest in bigger display and want to go for better performance and better camera with 4.8 inches of display (which is pretty decent to use) than you should check S3. The Price of Samsung Galaxy S3 (16 GB) is Rs. 27,500 where as the Samsung Galaxy Mega 5.8 will be coming with the price tag of Rs.25,100.