Earlier this month, Micromax Mobiles, the Indian Mobile manufacturer, had launched Micromax A111 Canvas Doodle and we have already reviewed this device. It was the new device launched in the Micromax's famous Canvas Series and the device had some fresh styling to offer. It was the company's new flagship in the quad core device market as well.
From the past few weeks there were lots of Quad core devices flowing in the Indian market and Gionee Gpad G2 was also one among them. This device was launched as an upgrade to the existing Gionee Gpad G1 and came with some major changes in hardware. Micromas A111 is expected to compete this Gionee's device and hence we will be comparing the specs of this two devices in detail today.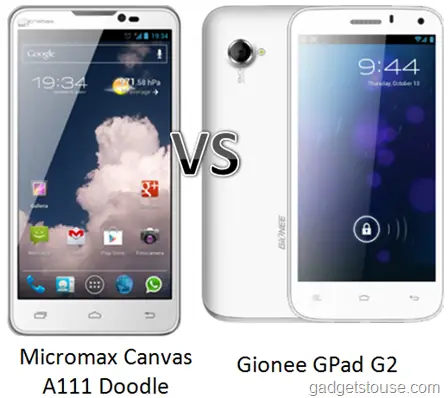 Display and Processor
The screen size of Canvas Doodle and Gionee Gpad G2 is same and both the devices have 5.3 inches of display. But both the device differ in their display quality. The Canvas Doodle has FWVGA Capacitive touchscreen with the display resolution of 854×480 where as Gionee Gpad G2 has IPS LCD touch screen with the display resolution of 540 x 960. So the quality of Gionee device looks better when compared to the Canvas doodle
The Canvas Doodle is powered with 1.2 GHz Quad-core processor which is same as that in the case on Gionee Gpad G2 but the chipset used in both the devices are different. The Canvas Doodle features Qualcomm MSM8225Q Snapdragon Chipset where as the Gionee Gpad G2 has Mediatek MT6589 chipset.
Camera and Memory
The canvas Doodle is featured with an 8 MP of primary camera with 3264 x 2448 pixels and enabled with autofocus and an impressive dual-LED flash where as the Gionee Gpad G2 also has the same 8 MP Rear Camera with Auto Focus and LED flash. Both can capture the 720p HD Video Recordings. The secondary front facing camera of 2 MP is also same in both the devices.
The Micromax canvas A111 has 512MB of RAM which looks weak when compared to Gionee Gpad G2's 1GB of RAM. Gionee's device comes with the internal storage of 4 GB out of which 1.74 GB is available for user but it comes with free 16GB memory card packed with it. The internal storage of the device can be expanded upto 32GB using the microSD slot. In case of Micromax cavas doodle, the internal storage is same 4 GB but the user available space is less which is only 1.22 GB. The internal storage of Micromax doodle is also expandable upto same 32GB.
Battery and Feature
The battery of Gionee Gpad G2 looks better than the Micromax canvas doodle. The Gionee's device got the powerful 3000mAh battery whereas the Micromax canvas doodle has 2100mAh Li-On battery. The other specs looks pretty same as both the device runs Android 4.2.1 Jelly Bean operating system, Dual SIM (GSM + GSM) with Dual Standby and both support basic connectivity including 3G, Wi-Fi 802.11 b/g/n, Bluetooth 4.0 with A2DP, aGPS, 3.5mm audio jack and FM Radio.
Model
Micromax A111 Canvas Doodle
Gionee GPad G2
Display
5.3 inches Capacitive touchscreen
Resolution:480 x 854 pixels
5.3 inches IPS LCD touch screen with qHD
Resolution: 540 x 960 Pixels
OS
Android v4.1.2 OS(Jelly Bean)
Android 4.1.2 (Jelly Bean) OS
Processor
1.2 GHz Quad-cor. Chipset: Qualcomm MSM8225Q Snapdragon
1.2 GHz Quad-core Chipset:Mediatek MT6589
RAM, ROM
512 MB , 4GB, expandable up to 32 GB
1GB, 4GB, expandable up to 32 GB
Camera
8 MP, 2 MP
8 MP, 2 MP
Battery
2100 mAh
3000mAh
Price
12,900 INR
13,990 INR
Conclusion
Both the devices have few similar specs but the Gionee Gpad G2 looks to be a winner between the two devices. With a little price difference of Rs.1000 INR, the Gionee Gpad G2 have better battery power, more RAM and a higher display resolution as compared to Micromax A111 Canvas doodle. The Gionee Gpad G2's processor Mediatek MT6589 is also better compared to Micromax A111 Canvas doodle's Qualcomm MSM8225Q processor. So paying 1000 INR more for Gionee Gpad G2 looks worth if you are planning to purchase Micromax A111 Canvas Doodle.