Winner Announced: Congrats to Yash Khatri who is the winner of iPhone 3GS in our giveaway. We will contact the winner on his email very soon.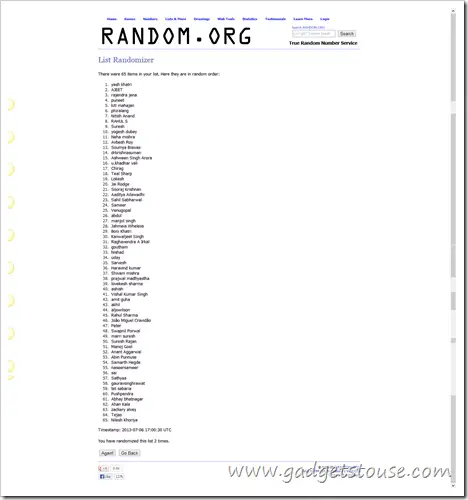 [Click the screenshot above to see the winner ]
Update: Thanks all for participating in our giveaway, for everyone expect the winner we would like to tell you about some series of giveaway for phones, tablets and other tech gadgets coming soon on this blog and in every giveaway after this one we will have 10 runners up who will also get a gadget goodie from us. So, stay tuned for the next giveaway. 
Update: The comments on this blog post has been closed the winner name will be announced on 2 July 2013, stay tuned.
It been more than one year, since we started Gadgets To Use – now we are a growing community of like minded geeky and non geeky people who are fascinated about technology changing our phones, tablets and others gadgets and how is that making our life difficult.
We have decided to reward our readers of our blog, viewers of youtube channel and fans on our facebook page with nothing but gadgets on weekly basis, so we have decided to run giveaway of various gadgets like smartphones, tablets and other gadget accessories. To start with, we are today announcing the Giveaway of iPhone 3GS any of our reader, viewer or facebook fan can win this by doing simple things mentioned below.
iPhone 3GS Photo Gallery
Steps Required To Participate in iPhone 3GS Giveaway
Gadgets To Use Giveaway Rules e
—
1. Like This Video shown below on youtube [click over video to watch it on youtube], Subscribe to our youtube channel and Share this video on your Facebook Profile
2. Leave a comment at the end of this post with a reason why you want to win iPhone 3Gs and also add the link of Facebook Status Update
3. We will close the comments on this video and website on 12 pm IST on 29 June 2013 to choose the winner.
Please Note: This contest is open to citizens on India only, we will choose a random winner and declare the name here on 30th June 2013.
Gadgets To Use Giveaway iPhone 3GS Video
Terms and Conditions
1. The contest will end on 29th June 2013
2. You do not need to share this blog post but share the video on your facebook profile.
3. You do not need to repeat the action items to win it, once done you are eligible to win the iPhone 3GS
4. The iPhone 3GS we are giving away is a review unit we purchased, some months ago its nearly in like new but not new.
5. Winner cannot claim money in exchange of their prizes.
Resources Help For Winning iPhone 3GS
Youtube Video Link You Need To Like – http://goo.gl/e8FsW
Youtube Channel To Subscribe – http://goo.gl/f4Wl7
Our Facebook Page You Can Like – http://goo.gl/KCfxI
Please Note: Use the raffle copter widget to do all this quick and easy.