iBall has been extending their offerings with releases every now and then. The latest on the block is the iBall Andi 4DI, an entry-level phone for those who're tight on budget or are simply looking for a low cost Android device. The phone comes with a rather small screen, measuring just 4 inches. But that is in agreement with the idea of a low cost phone.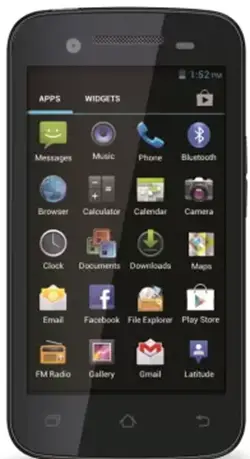 The phone seems to be priced well at 5,955 INR, and comes with a single core 1GHz processor.
Camera And Internal Storage
iBall does well here with the inclusion of a 5MP rear camera. This comes with a single LED flash as well, which should come in handy during low light situations. On the front, the device packs a VGA camera, which again, is acceptable given the price tag the device comes with. This more or less puts the phone in the entry-level segment.
On the storage front, as expected, iBall cuts costs by including only 512MB of ROM, but a microSD card slot is included. You can use microSD cards of up to 32GB in size with this device from iBall.
The RAM on the device is again 512MB, which is decent enough for novice users and does justice to the price tag.
Processor And Battery
The phone features a single core processor clocked at a frequency of 1 GHz. You can expect the phone to manage through daily tasks such as email, WhatsApp, SMS and calls, however, the processor might have a tough time coping up with hardware intensive tasks like gaming and multimedia. But again, for the price, what is offered looks decent. Not underpowered and not exceptional at the same time.
The phone comes with a 1700mAh battery which seems like it should take you through one whole day of usage. That being said, we should let you know that some phones like the Samsung Galaxy S Advance which cost quite a bit more, come with smaller batteries than this one. Kudos to iBall for including a decently sized battery for this budget device.
Display And Features
The phone features a 4 inch display with a WVGA resolution of 800×480 pixels. It is a known fact that a 4 inch screen is much below today's average screen size, but again, we wouldn't complain given that the phone isn't a flagship, nor does it come with a hefty price tag like many others.
The 4 inch display might suit people who don't do too much multimedia. A video here and there, and that's all. People who use their phone mainly for productivity and social media purposes will be happy with the screen size.
Apart from that, there's nothing exceptional about the device.
Comparison
The phone can compete with the Asha series from Nokia, and quite a few other domestic manufacturers, listing which here won't be a viable option.
Key Specs
| | |
| --- | --- |
| Model | iBall Andi 4DI |
| Display | 4 inches WVGA (800×480) |
| Processor | 1GHz single core |
| RAM, ROM | 512MB RAM, 512MB ROM expandable up to 32GB |
| OS | Android v4.0 |
| Cameras | 5MP rear, VGA front |
| Battery | 1700mAh |
| Price | 5,955 INR |
Conclusion
The phone is meant for people who are
1. Either on a tight budget
2. Looking for a cheap secondary phone
And we'd say, the phone ticks all boxes at that. You might find the screen short of your expectations at first, but then you come to realize that the phone will deliver only it's price's worth and nothing more.
The battery is a plus on the phone, so is the inclusion of a 5MP rear camera. These are two things often overlooked by most manufacturers, especially in the budget segment. But it does seem like iBall is going that extra yard in order to catch the buyer's attention and ultimately, make the user happy with this device.