We earlier covered the launch of LINE messenger in India earlier this month, in only three weeks this free calling and messaging app has crossed the 5 million mark and thus been a hit amongst Indian youth. The two year old LINE messenger which boasts of over 200 million users worldwide, is a product of Korea based Internet Company and has its head quarters in Tokyo, Japan.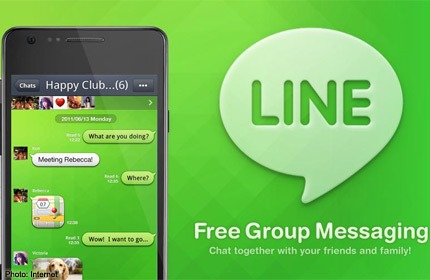 One of the main reason for the success of this app in India is its wide spread Marketing. Highlighting the group voice chat and sticker features. These features are also available on other messengers like facebook and Whatsapp. You can also purchase stickers or emotes to better express yourself through text messages. This purchase of stickers and games forms the major source of this App's revenue. Sticker characters include LINE's original characters along with characters from Disney, hello kitty and Iron man.
Commenting on the achievement, Mr. Jun Masuda, Chief Strategy and Marketing Officer (CSMO) of LINE Corporation, said, "We are extremely happy with the response to our service in India. This is the testimony that we are in the right market with the right product and at the right time. We believe that the framework for web based messaging has already been laid with consumers hooked to it and now are looking for a product that can elevate their communication experience through richer features and functionality. LINE comes in at the right time with an app that will transform the way people communicate in India".
LINE messenger is among top 26 service apps downloaded from google play store and has doubled its user base worldwide in last 6 months from 100 million to 200 million, owing to the rapid growth of users in new regions like India, phillipines , spain, Brazil, etc., which in itself is a big achievement.
The growth of this app signifies the social networking craze among Indian youth. With India being rated as the third largest smartphone market in the world, the users of networking apps will only grow.Line messenger aims at increasing its user base to 10 million in the coming months. Line messenger is available for both PCs and Smartphones across iOS, Android, Nokia ASHA, Windows Phone and Macs.