The Mega lineup from Samsung didn't have too many competitors when it was launched a while back. However, there are some serious competitors to this device from Samsung, which includes the recently launched Sony Xperia Z Ultra. The Xperia Z Ultra comes with a similarly sized screen, which measures slightly more than that of the Samsung Galaxy Mega 6.3, measuring 6.4 inches diagonally.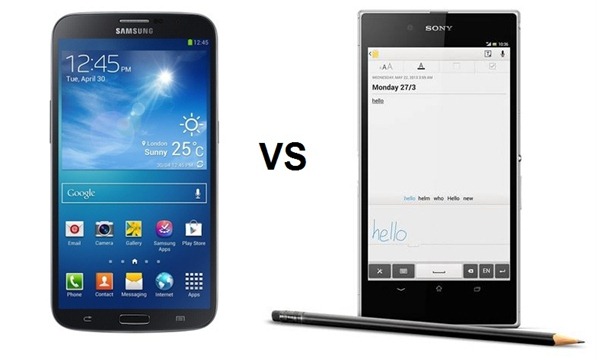 There, however, are some major differences in between the internal specifications of the two devices which can be expected, given the difference in price. Let us go ahead and talk about the same.
Display And Processor
As mentioned earlier, both the devices come with screens measuring more than 6 inches. The Mega 6.3, as the name suggests, comes with a 6.3 inch screen whereas the newer of the two, the Xperia Z Ultra comes with a 6.4 inch one at that. The devices are indeed quite large, and take the term 'phablet' to a whole new level. We were used to seeing phablets with 5.5-6 inch screens before this.
The Xperia Z Ultra comes with a Full HD resolution of 1920×1080 pixels, which makes the 720p display on the Mega 6.3 look miniscule. The Xperia Z Ultra is quite simply the better of the two when it comes to display. With just 0.1 inch more, you get a much higher resolution which allows for a better pixel density, which in turn means better video/multimedia experience on the device.
That was for the Display. Let's get under the hood and compare the processors on these two powerhouses.
The Samsung Galaxy Mega comes with a dual core Qualcomm Snapdragon 400 processor, clocked at 1.7 GHz. This move from Samsung got its fair share of scrutiny by reviewers and tech enthusiasts around the world, since most of them expected a quad core processor. On the other hand, the Sony Xpreia Z Ultra comes with the Qualcomm Snapdragon 800 chipset, which is said to house the world's most powerful chipset on mobile devices. The Quad core processor is clocked at 2.2 GHz, which does sound like some serious power to us.
The Xperia Z Ultra sweeps the stakes as far as display and processor is concerned.
Camera And Memory
Given the ultra high-end specifications on the Xperia Z Ultra, you would expect to see a 13MP main camera at least; but Sony decided to include only an 8MP unit. The same camera (in terms of resolution) can be found on the Samsung Galaxy Mega 6.3 as well, so there is nothing much to choose from as far as numbers go. However, Sony are known for their imaging technology and it might not be a surprise if the Xperia Z Ultra fares better than the Galaxy Mega 6.3 when it comes to imaging. However, we cannot give our verdict on this at the moment, at least until we have the Xperia Z Ultra in our hands.
The Mega 6.3 comes with a 1.9MP front camera, while the Xperia Z Ultra packs a similar 2MP unit.
On the storage front, the Mega 6.3 comes in 2 variants; 8GB and 16GB while the Xperia Z comes only in 16GB. Both devices come with microSD card slots which can accept cards up to 64GB in size, so there can't be one winner in this category.
Battery And Features
Given the massive screen size on the devices, you expect equally massive batteries to power them up, and both these devices do not disappoint. The Xperia Z Ultra comes with a 3050mAh battery which should be enough for 6 hours of screen on time, whereas the Mega 6.3 features an even bigger unit at 3200mAh which should take you through one day with quite a bit of ease.
This is impressive from Samsung, who're offering the Mega 6.3 at quite a bit lesser compared to the Xperia Z Ultra from Samsung.
Key Specs
| | | |
| --- | --- | --- |
| Model | Sony Xperia Z Ultra | Samsung Galaxy Mega 6.3 |
| Display | 6.4 inches, full HD 1080p | 6.3 inches, 720p HD |
| Processor | 2.2 GHz quad core | 1.7 GHz dual core |
| RAM, ROM | 2GB RAM, 16G ROM expandable up to 64GB | 1.5GB RAM, 8/16G ROM expandable up to 64GB |
| OS | Android v4.2 | Android v4.2.2 |
| Cameras | 8MP rear, 2MP front | 8MP rear, 1.9MP front |
| Battery | 3050mAh | 3200mAh |
| Price | About 44,500 INR | About 28,500 INR |
Conclusion
At about 15,000 INR extra, you get the world's most powerful processor and 2GB of RAM; on the other hand, you can save the 15,000 INR and get the Mega 6.3 for about 28,500 INR. This, of course would depend on how you're looking to use your device; if your usage involves hardware intensive tasks, then the Xpria Z Ultra would definitely be a better choice. Not only will it suffice for now, but it would also mean you're future proof for quite some time.
On the other hand, the Mega 6.3 is a device which is not too powerful and at the same time, not underpowered. You can use the device for daily tasks like email, reading, multimedia, etc.
Sony Xperia Z Ultra VS Samsung Galaxy Mega 6.3 Hands on Comparison Review[Video]