Zen Mobiles have announced, Zen Ultraphone 101, a budget android Dual SIM phone in their Ultraphone series. This phone has a MRP of Rs. 3,199 but is exclusively available on Homeshop18 for Rs. 2,999. Recently in the last few days we have seen the launch of various budget android phones like Videocon A24, Intex Cloud X3, Karbon Star A1 and A5 and Lava Iris 356 and 402. This clearly indicates the surge in demand for such devices.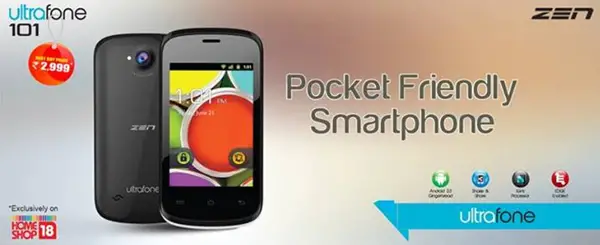 This phone comes with a 3.5 Inch display with HVGA 320 x 480 pixel resolution, which is quite standard in this range budget Android device where the purpose is to provide you with basic Android experience and not full fledged gaming experience.
This phone is powered by a 1 GHz processor. The other rival products launched recently like Intex Cloud X3 are offering 1.2 GHz dual core processor. Having said that, a 1 GHz processor will suffice for intended purposes and will tax your battery less. The RAM capacity is standard 256 MB and the internal storage is expendable to up to 32 GB. The Operating System employed is Android 2.3 Ginger bread which though being quite old now has surprisingly maintained its 33% share among all Android Operating systems
The Ultraphone 101 has a 2 MP primary camera along with Flash for low light photography. No secondary camera is present in this device. The battery capacity is 1400 mAh. The connectivity features include Bluetooth, GPRS, Wi-Fi and EDGE. This phone also comes with a preloaded torch feature.
The specifications of this phone bring nothing new to the table. It is meant only for basic usage and you can buy it if you want to switch from a feature phone to Android experience. If you are willing to spend a little more , videocon A24 and Intex Cloud X3 with Android 4.2 will be better options.