Microsoft has launched Microsoft Office 365 University in India, targeted at Higher education students. You can buy a 4 year subscription of MS Office 365 University for Rs. 4,199. Microsoft Office 365 University Will allow you to share documents in Real time, and will work across 2 PC or Macs. It also comes with 20 GB of Premium SkyDrive additional storage. It will be compatible only with Windows 7, Windows 8 and Mac OS 10.6 or later.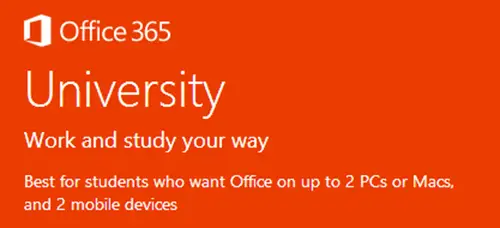 "Office 365 University is in a class by itself and university students will love the capabilities of new Office," said Ramkumar Pichai, GM – Microsoft Office Division, Microsoft India. "Office 365 University will be a trusted and integral part of students' everyday always-on, always-connected life, taking full advantage of the cloud and touch capabilities, all at the best price. The special pricing for students will help provide them with opportunities and empower them to develop the necessary skills to be successful in the fast-paced campus environment, making them future ready as they join the workforce of tomorrow."
To avail this offer from Microsoft you will have to prove your credentials first. You are eligible if you are a part time or full time student enrolled with any university or even if you are a faculty or staff member in any accredited University.
To purchase MS Office 365, log in to www.office.com/verify and verify your eligibility credentials. You will have to fill in your University credential details or International Student identity Card details. You can also submit documents through manual verification process. After completing the verification process you can buy Office 365 from Microsoft Store.
The main features include complete set of latest Office applications including, Word, PowerPoint, Excel, OneNote, Outlook, Publisher and Access. We all are acquainted with basic knowledge of MS Office and realize how efficient and indispensable it can be in our day to day lives. It Also has an Office on Demand feature which lets you create documents on SkyDrive or work on already existing documents saved in Skydrive . Apart from this it comes with 20 GB of Cloud storage which will help you to securely save your data and retrieve it whenever and wherever you are on the move. You can install Office 365 on two PCs but it can be used by a single person only.
The Microsoft Office 365 University will be offered in 52 retail markets and has been designed for digital inclusion in study techniques of student to make them more organized, providing them with enhanced tools and making them more efficient.