Nokia Lumia 625 is up for pre-order and this news is all over the web right now, reason being Flipkart became the show crasher for Nokia (as they were about to announce that on their own). Nokia Lumia is really a great phone in terms of specifications which includes a 1.2 GHz Quad Core Processor which is sufficient for the Windows Phone OS to perform without any lag.
The price is of 19,499 INR at which this will be available for the pre-order and this does not come alone. Flipkart will provide the owner of this phone with the 11 e-books with the access available up to 3 months after that, you will have to buy them. In Nokia Music app you will be able to surf across the huge collection and download the songs for free (first 6 months only).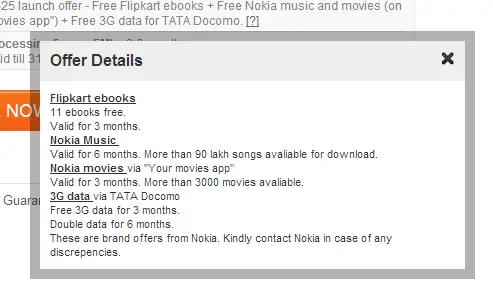 The Nokia Movie application also gives you a privilege to access the movies for free (till first 3 months) and then lastly you will have free 3G connection from Tata Docomo for first 3 months and then Double Data offer for the next 3 months. These offers are really attractive and I am not sure whether they will be available after this phone comes out of the pre-order mode.
The primary camera of this device is 5MP and the secondary camera of this device is 0.3 MP, these camera specs at the price of 19,499 INR might lead the users to opt for the other phones in the same price range. The size of the display is 4.7 Inches which is not that great but good enough (being close to 5 Inches). You can pre-order the device from Flipkart and stay tuned to know when these offers wear off.