Canon today launched four cameras in its PowerShot range namely, PowerShot G16, S120, SX510HS and SX170IS, the last two being the budget cameras with long lens.
The Power shot G16 and S120 offer fastest Autofocus speed by canon so far, along with a range of exciting new features like the DIGIC 6 image processor, up to 12.2fps continuous shooting in full resolution, Star shooting mode, Background Defocus as well as artistic HDR modes. PowerShot G16 is capable of capturing image at full resolution of up to 12.2 fps in P mode and 5.7 fps with AF, while the PowerShot S120 reaches up to 12.1 fps in P mode and 5.5 fps with AF.
PowerShot G16 and S120 Key Features
Latest DIGIC 6 imaging processor enabling improved sensitivity to shoot at higher resolutions with less noise in dark conditions.
Dynamic IS now detects and compensates for tilt and parallel movement, thus preventing blurring of image due to vibrations.
MP4 high-compression format, Full HD resolution video recording.
5x Optical Zoom lenses, expandable to 10x using Canon's new ZoomPlus feature
Star shooting mode, for users who like to take photos and videos of night skies in two modes
Background Defocus feature: two images are taken and analyzed and the background is blurred according to your desired level.
High Dynamic Range (HDR) with five new effects which are: Natural, Art Standard, Art Vivid, Art Bold, and Art Embossed.
WiFi capabilities, allowing easy and instant sharing of clicked images and videos on other devices as well as on social networking sites.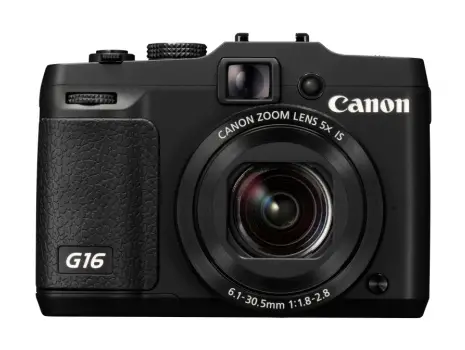 The PowerShot G16 has a bright f/1.8 (W) – f/2.8/ (T) lens that performs beautifully especially in low light, perfect for creating dramatic soft backgrounds with shallow depth-of-field. The PowerShot S120 has improved aperture to f1.8 and a 3.0-inch touch-screen LCD for simple and casual operation. Both these cameras can also be operated underwater using suitable cases WP-DC52 and WP-DC51 respectively.
Budget camera, PowerShot SX170 IS is a long-zoom camera and despite being a budget model, it still had full movie capabilities, including HD movies and stereo sound. This 16 MP digital camera comes with 28mm 16x Optical Zoom lens which can be expanded to 32x using ZoomPlus. Like the PowerShot SX510 HS, the PowerShot SX170 IS is also powered by the DIGIC 4 imaging processor.
The PowerShot S200 , the new player in the PowerShot series, is equipped with larger aperture f/2.0 (W) lens similar to S series. This camera comes with S series functionality and thus makes it easier for those upgrading to the Auto series and is thus designed for those migrating from beginners stage to a higher stage.
Powershot S200 Key Features
10.1 megapixel digital camera with CCD sensor
24mm 5x optical zoom that can be extended to 9x zoom using ZoomPlus.
Digic 5 imaging processor which reduces noise at as high as 6400 ISO levels without compromising on details or resolution.
7.6cm (3.0") LCD screen
High Speed AF, within approx .20 sec
WiFi capabilities, allowing easy and instant sharing of clicked images and videos on other devices as well as on social networking sites.
Another Budget camera, PowerShot SX170 IS is a long-zoom camera and despite being a budget model, it still had full movie capabilities, including HD movies and stereo sound. This 16 MP digital camera comes with 28mm 16x Optical Zoom lens which can be expanded to 32x using ZoomPlus. Like the PowerShot SX510 HS, the PowerShot SX170 IS is also powered by the DIGIC 4 imaging processor