Update: 3/10/13 Sony Xperia C is now available for Rs. 20,490 on Online Retail website Saholic
The international market has finally begun realizing the potential in budget chipset makers like Rockchip and MediaTek. This can be understood by the fact that after HP used the RK3066 from Rockchip in their Slate 7, Sony is now about to come up with the Xperia C which will be using the MT6589, a chipset seen in an array of budget devices from Indian and Chinese manufacturers.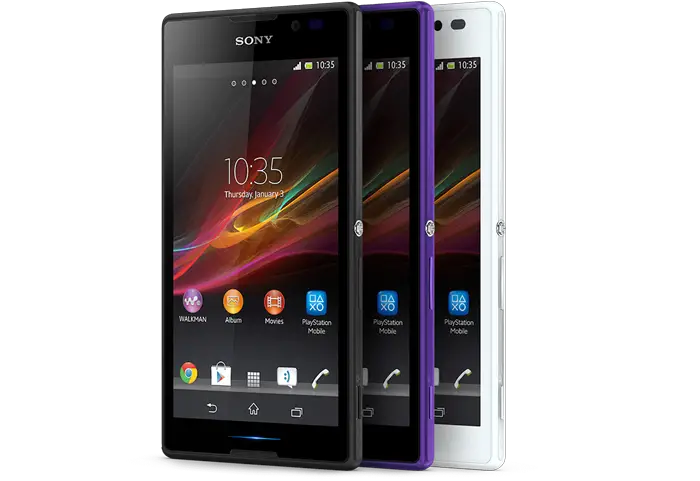 The MT6589 is by far the most powerful processor to feature in a generation of budget devices. The processor implements 4 Cortex A7 cores, clocked at 1.2 GHz paired with a PowerVR SGX 544 GPU, leaving no stone unturned.
Let us talk about the entire specifications of this device.
Camera and Internal Storage
The phone comes with specifications you'd expect in an MT6589 phone, but the good part is the Sony quality control. You get an 8MP main camera like most other budget devices featuring this processor. However, you can expect the shooter on this one to be a few notches up in terms of picture quality since Sony is a world renown manufacturer, and has a minimum quality to maintain. Thus, you would probably get the best 8MP camera on the Xperia C when compared to any other MT6589 phone from Micromax, Karbonn, etc.
Sony, in order to cut costs, has only included a VGA front unit on the Xperia C, but we don't see many users complaining. The price on this device will be it's USP, so a few factors like the front camera can be overlooked up to an extent.
The device will come with 4GB ROM in true MediaTek sense. We can understand that Sony would've spent more than others on the device's internals, so we can't really complain about low storage. As usual, you get a microSD slot using which you can expand the storage by up to 32GB.
Processor and Battery
The phone has been in the news for the processor it implements more than anything else. Most readers, even before reading this article, would've been aware of the fact that the device comes with a 1.2 GHz quad core MT6589 chipset, which is among the most popular (if not the most powerful) chipsets as far as devices from domestic manufacturers are concerned.
The MT6589 is a good enough processor, and if you're looking at the Xperia C as a daily driver, you can rest assured that the device will not let you down, at least as far as processing power is concerned. It will, of course, not be as fast and snappy as say a Snapdragon S4, but you can expect a decent level of smoothness. The MT6589 creates a category of it's own as far as processing strength is concerned.
The device is expected to blaze through daily apps like email, IM, browser, and a certain level of smoothness can be expected when playing the latest games as well.
That's about what we can say about the processor without actually having the device in our hands. Coming to the battery, the device packs a super impressive 2390mAh unit which you can expect to give you more than one full day of backup. Most smartphones of today come with batteries up to 2000mAh, and this is simply a good move by Sony, to include a larger than average unit.
Display and Features
The Xperia C will come with a 5 inch display, featuring a qHD resolution of 960×540 pixels. This returns a pixel density of 220 PPI, which is not too bad, but not great as well. The display sounds like more of an all-round one, meaning that while it would probably provide a decent multimedia experience, it won't be taxing on the hardware at the same time. Thus, you can expect decent performance plus good battery backup on the device.
Like other MediaTek devices, the phone will come preinstalled with Android v4.2.2 which is another good sign.
Looks and Connectivity
Sony phones, particularly the Xperia series, have always been among the best looking devices as far as the average user is concerned. Looking at this device, it does look like it does not disappoint. At 8.9mm, the device will be good to hold and not very bulky as well. The not-too-big 5 inch screen will mean that the device will be fairly mobile and easy to carry around, expect for people with really small hands.
The Xperia C will come with dual SIM features. Other connectivity features include WiFi, Bluetooth, GPS, FM Radio, etc.
Comparison
Most of you reading this post might have already made a list of competing devices on your minds. For the record, the devices in our list which can compete with this device can be the following – Samsung Galaxy Grand Quattro, Gionee Elife E5, which is a device with an amazing display apart from a faster processor, the JiaYu G4, Spice Pinnacle Pro, etc.
Key Specs
| | |
| --- | --- |
| Model | Sony Xperia C |
| Display | 5 inches qHD |
| Processor | 1.2 GHz quad core MT6589 |
| RAM, ROM | 1GB RAM, 4GB ROM |
| OS | Android v4.2.2 |
| Cameras | 8MP rear, VGA front |
| Battery | 2390mAh |
| Price | Rs. 20,490 |
Conclusion
It will be very interesting to see how Sony decides to price this upcoming device. There are innumerable other MediaTek based devices in the market, and for the Xperia C to do well, Sony will have to give it a competitive price tag. However, it is a known fact that the build quality and the customer support provided by domestic brands like Micromax, Lava, etc is nowhere as good as what you get from Sony, so the company will have a head start, indeed.