Nokia unveiled their latest low-cost phone, the Nokia 108 for the market earlier today. The device's availability is expected to begin in about a month, and being priced at $28 which is about 1750 INR, we expect to see this one do well in the market.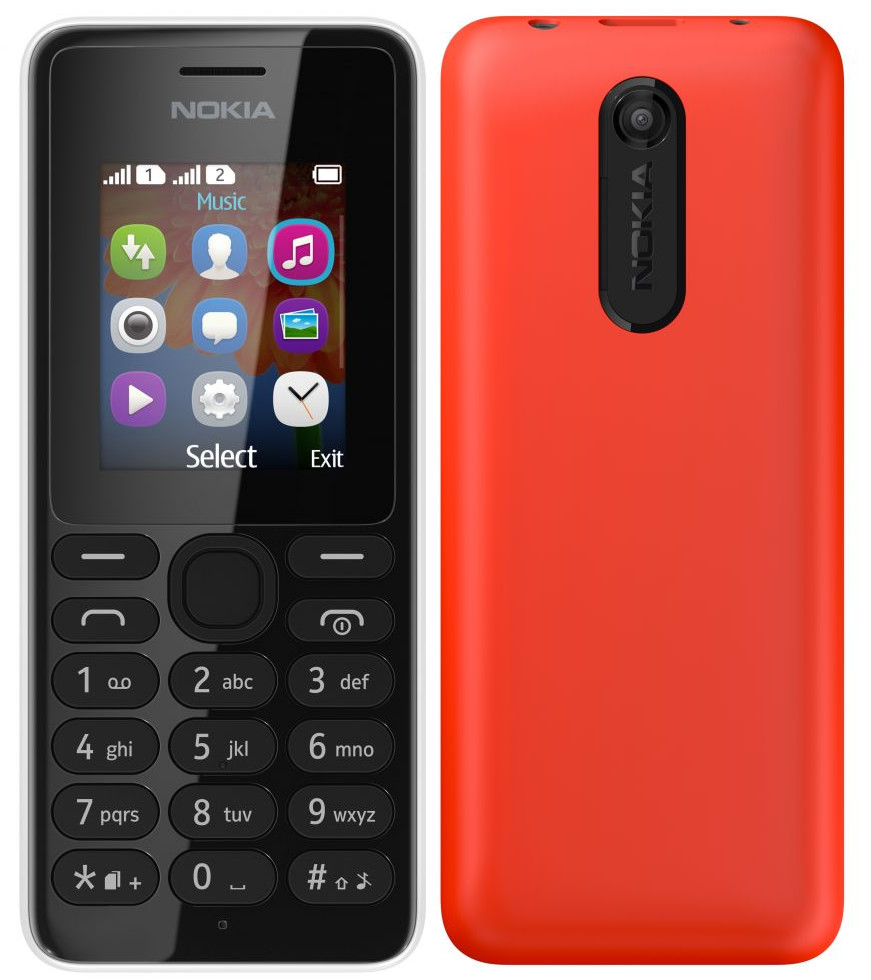 Devices like this one do not generate a lot of attention in the media, internet and TV combined. But phones like this one are the sole reasons behind the increasing reach of telephones.
Camera and Internal Storage
The device comes with nominal specifications that include a VGA rear camera. If you understand Nokia's strategies behind this phone, you will realize that the device is a very good concept. Although there's only a VGA camera, but at 1750 INR, expecting Nokia quality + a camera would be asking for too much, but that's what you get with this phone. The camera will be of fixed focus type, and according to Nokia, it will be perfect for people purchasing their first-ever camera phone
There is no word on the internal storage of this low-cost phone. However, the device does come with the option of expandable storage, up to 32GB via microSD.
Processor and Battery
As you would have expected, factors such as price and battery life play a much more important role for devices like this one. Such devices are made to be available for everyone, rather than anything else. Nokia did not reveal the processor and/or the processor frequency, so we can't talk much here, however, you can expect the phone to be like any other low cost S40 based Nokia phone.
The phone's USP lies in the battery. The Nokia 108 features a 950 mAh battery, which according to Nokia should take you through 31 days of standby, 13.8 hours of talktime and a whopping 41 hours of music playback. We feel these figures are impressive indeed, and anyone who's looking for a low cost phone should definitely consider this offering from Nokia. Not only will you save a lot on money, but you'll also get impressive battery life which is hard to come by these days.
Display and Features
The Nokia 108 comes with a 1.8 inch screen. Although this comes across as too small a size by today's standards, it shouldn't really matter to those at which the device is targeted. The display is capable of generating 64k colours, and the resolution is set to 160×128 pixels. This should be enough for reading UI text and sending and receiving text messages. For Android users, it might be a little difficult to adapt to this display because it is a massive departure from the HD panels we're used to seeing.
Here's the promo video of the Nokia 108:
Looks and Connectivity
The phone is much smaller than other phones in the market today. Weighing just under 70 grams, the device is also among the lightest phones. The device will be a boon for sportspersons, etc. who like having a small, light and very mobile device.
The device has big keys which will let people with big hands use the device with a fair amount of ease. The device will also be handy for senior citizens.
Comparison
The phone won't really have many competitors from other manufacturers, since only super low cost Chinese phones can compete with this one in terms of price, and they're nowhere close as far as the quality is concerned.
It is only other Nokia devices like the 105, 106 and the 107 which can be thought of as market threats for this device, but Nokia has nothing to lose here.
Key Specs
| | |
| --- | --- |
| Model | Nokia 108 |
| Display | 1.8 inches, 160×128 pixels |
| Processor | Not revealed |
| RAM, ROM | Not revealed |
| OS | Not revealed |
| Cameras | VGA rear, no front camera |
| Battery | 950 mAh |
| Price | $28 ~ 1750 INR |
Conclusion
The message from Nokia is pretty clear, they want to expand their shores as far as possible. The 108 does look like a device that can do it for them. You should also take note of the fact that a dual SIM variant of the same phone was unveiled too, which should probably be available at about the same time as this one, albeit at a slightly higher price.
We can foresee both these devices doing well in the Indian market, much like the 105 which sold more than 1 million units in the country.