Snapdeal has come up with a one of its kind service platform,  ReGlobe where by it offers to collect your old gadgets including Smartphones, tablets and Laptops in return for cash! The service sounds quite useful and convenient as Snapdeal has provided with pick-up service for your gadgets as well in selected cities.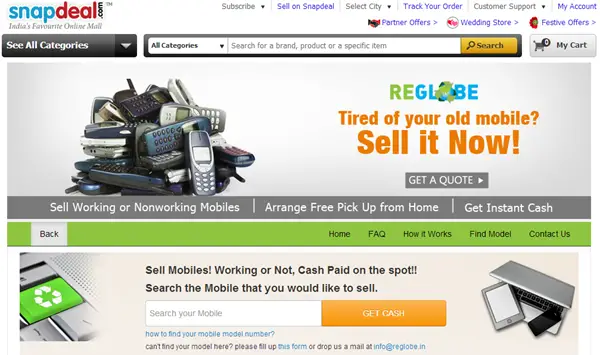 How to Avail this Service
To avail this service you have to identify your gadget brand and make on Snapdeal Website, and fill in simple form regarding details about its conditions. Snapdeal will provide you with a Quote amount instantly. You can then schedule your pick up by clicking on the "Sell it and Schedule a Pick up" button.
The Gadget will be verified by ReGlobe technicians and if the condition matches the condition on the detail form, you will be paid in cash. If not, then you will be sent a new Quote and the transaction will take place if both the parties agree to it.
"ReGlobe is an exciting initiative for us where we provide customers the opportunity to sell their old gadgets without any hassles. The process is simple and hassle-free. This is yet another attempt on our part to make everything available to our patrons at the click of a button and at the most competitive rates," says Tony Navin, VP- Business Development, Snapdeal.com.

We tried Selling our 8 month old Canvas 2 A110 in good condition (not flawless) and without earphones. Snapdeal offered Rs. 5, 155. In flawless conditions it Offered Rs. 5,728. It is presently selling for around Rs. 9,500. The initial quote offer is quite good actually.
You can avail this service by visiting Snapdeal ReGlobe Website. Currently the pick-up services are available only in Gurgaon, Delhi, Faridabad, Noida , Gaziabad, Mumbai, Bangalore, Secunderabad and Hyderabad. Snapdeal plans on adding new cities every month.