Snapdragon 800 processor was launched earlier this year and is now available in host of high end devices like Sony Xperia Z1 and LG G2. This processor provides a 75% performance boost over Snapdragon S4 pro and is the best Smartphone processor out there and as our experience with LG G2 tells us, it's extremely fast and snappy.
So what exactly is Snapdragon 800? To begin with, Snapdragon 800 is a Quad core processor from Qualcomm which comes with 4 Krait-400 cores and is clocked at 2.3 GHz. But it goes a lot deeper than that.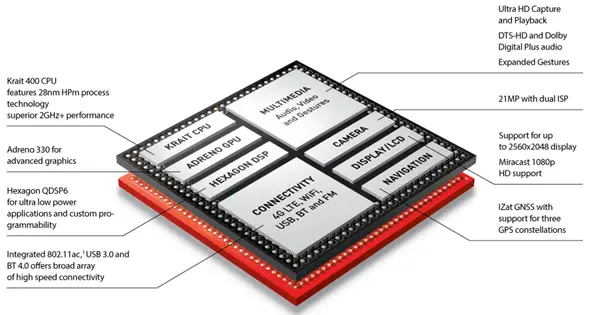 The Krait 400 Cores
Krait cores are fabricated on 28 nanometer process technology which provides advantage in crucial parameters like frequency scaling, power consumption and of course reduction in size. The same 28nm process has been followed in Krait 300 cores which we see in Snapdrahon 600 processor, present in phones like HTC One.
With Krait 300 cores frequency was scaled from 1.5 GHz to up to 1.9 GHz and Krait 400 cores, in Snapdragon 800 with 28 nm HPm (High performance for Mobiles) process technology further takes this to 2.3 Ghz. With improved branched prediction these cores give better power efficiency and improved Instructions Per Cycle (IPC).
Krait 400 cores have a faster L2 cache memory even compared to Krait 300 cores. Cache memory is used to store data which will be required in the execution of next instruction so that the CPU doesn't have to wait for the data when the data is required.
The time taken to transfer data either from main memory or GPU cache is called Latency and has been reduced as well. As the CPU doesn't have to wait to receive data for processing the efficiency increases. Also the Krait cores, with architectural similarities to ARM Cortex A15, including the predecessors of  krait 300 and 400 can run on Asynchronous clock speed. This means all cores can run at different clock speed according to the load and this helps in significant power saving.
Another major improvement in Krait 400 cores is that these cores have the added advantage of a pre fetcher, which speculates and brings data into the L2 Cache in case it might be used. This enhances the performance significantly. The Snapdragon 800 SoC supports 2 x 32 LPDDR3 clocked at 800 MHz which is less than Competitor Nvidia Tegra 4 and Exynos 5 Octa.
The Adreno 330 GPU
Another significant part of the Snapdragon SoC is the Adreno 330 Graphics Processing Unit. The GPU is present inside the chipset in close proximity to the processor. GPU assists the processor in processing algorithms where large blocks of data have to be processed simultaneously. They also in a way provide for the display output. Efficient use of GPU is dependent on operating system of your smartphone for it decides when to shed the burden of power consuming cores and tax the GPU.
You must have come across various Adreno GPUs like Adreno 200, Adreno 220, Adreno 320,etc. the larger the number at the end faster is the GPU. Adreno 330 GPU has been clocked at 450 MHz and provides over 50% improve in graphic performance as compared to Adreno 320 present in Snapdragon 600. It also provides 2 X increase in computing performance. You can checkout the smooth and fluid graphics and gaming performance in the video below.
Snapdragon 800 Gaming Performance on LG G2 [Video]
Digital Signal Processor
Digital signal processing requires large number of mathematical operations performed quickly and repeatedly. Qualcomm Hexagon DSPs are designed to deliver performance with low power consumption and are present in all snapdragon processors. The Snapdragon 800 has Hexagon QDSP6V5 which is clocked at 600 MHz compared to 500 MHz in Snapdragon 600 has been designed for Ultra low power application.
DSP frees up CPU cycles and handles additional tasks including Multimedia, imaging enhancement, augmented reality, etc and helps in conserving battery. Qualcomm also allows OEMs (Original Equipment manufacturers) to develop Custom DSP apps which gives manufacturers freedom to improve performance in a targeted area like imaging for better camera performance.
Camera and Video Recording
This is the first chipset which can support 4K video recording at 30fps. You can record 4K videos and watch them on your 4K TVs as that won't make much of a difference on your smartphone screen. This is the reason why everybody expected Sony Xperia Z1 to support 4 K recording because Sony teased it as a Camera specific device with Snapdragon 800.
4K recording would take enormous space on your SD card for storage and probably that's the reason we don't see it on LG G2 either. Acer Liquid S2 which is expected to launch by the end of this month(Not in India) will be the first phone to support 4K recording.
The Snapdragon 800 can support up to 21 MP of camera and that explains 20.7 MP camera in Sony Xperia Z1, the biggest MP count in android phones so far. Then how did Nokia manage a 41 MP camera on Snapdragon S4? Well that info has not been specified by Nokia but it must use the Hexagon DSP for mentioned above, for image processing along with 2 GB RAM. Nokia and Qualcomm allegedly worked together to make this a reality.
The Snapdragon 800 also comes with two Image signal processors which helps it support up to 55 Megapixels worth of image data. This allows for capturing 3D images and support up to 4 camera sensors.
Connectivity Features and Other Improvements
All connectivity features have been improved in Snapdragon 800 compared to its predecessor. Snapdragon 800 supports USB 3.0 connectivity unlike its predecessors. USB 3.0 is 10 times faster than USB 2.0 and consumes less power on idle states. It also supports Bluetooth 4.0+ , WiFi 802.11ac for faster speed and power saving along with advanced GPS hardware.
The Snapdragon 800 MSM8974 supports LTE, MSM8274 supports 3G and MSM8674 supports CDMA. MSM8074 has no modem. Snapdragon 800 supports higher display resolutions of up to 2560×2048 pixels. The chipset also supports 7.1 surround sound and Dolby digital plus Audio.
Main competition of Snapdragon 800 processor is Nvidia Tegra 4 Chipset which comes with 4 CPU cores and 72 GeForce GPU cores. Though we haven't seen many high end smartphones with this processor yet, Xolo Tegra Note will bring this chipset to India. Nvidia claims that this will be the fastest 7 inch tablet in the market. Snapdragon 800 has a lot going under that hood which almost seems too good to be true. These SoC in true sense forms the heart of your gadgets and affect every performance aspect.