When Samsung introduced its Note series few years back, most tech reviews didn't believe that it will catch up. It barely felt like a phone with its large display. The Sony Xperia Z Ultra (Full Review) launched couple of months back redefines a Phablet with its large 6.4 inch display size and we see a similar transition in Lumia series today which now boasts of its first 6 inch Phablet Lumia 1520! Let's put these devices against each!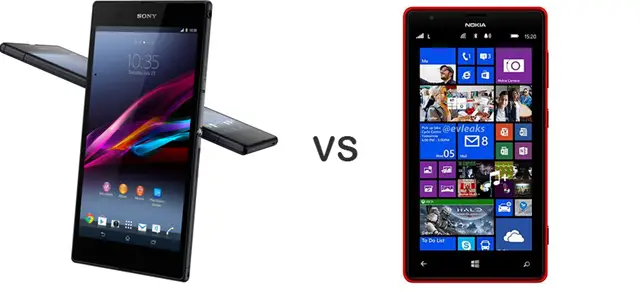 Weight and Body Dimensions
Sony Xperia Z Ultra is huge phone, but it is also one of the slimmest phone around. With 6.5 mm body thickness which makes it easier to hold. The weight is also manageable at 212 Grams. The Lumia 1520 weighs 209 grams and is 8.7 mm thick which is significantly thicker than Xperia Z Ultra but not as thick considering the display size. Both phones will be comfortable to hold but Xperia Z Ultra won't fit in your pants pocket which is a deal breaker for most people.
Display and Processor
The 10 finger multitouch display of Z Ultra with 6.44 Inches of diagonal length sports a Full HD 1080 resolution which gives you 344 ppi pixel density.
RILUMINUS screen will give you crisp texts. TRILUMINOUS technology works to improve color saturation in selected areas. X reality engine present in Xperia Ultra z fills in pixels in standard definition pics so that they don't appear blurred on relatively big screen of this phone.
The display is water and dust proof and is protected by a shatter proof scratch resistant glass. The screen is very sensitive and that can be a problem if you have sweaty hands. The sweat and grease will be considered as touches and you will have to keep the display squeaky clean. This display sports good color contrast and wide viewing angles, something we haven't seen in other high end phones from Sony.The extra sensitive display lets you doodle on the screen using objects like a pencil.
The Nokia Lumia 1520 has a Six Inch IPS LCD display with Full HD resolution. This pixel density is 367 ppi and there won't be much difference in Clarity. The display is Nokia's signature ClearBlack Display which contains polarizing filters to eliminate reflected light so that you get good outside visibility and enhanced brightness.
Both of these displays are vibrant and colorful and will provide you with premium experience and Crisp texts. But if you sweat while making calls and don't live in a dirt free zone most of your day, Xperia Z Ultra's display will restrict you from using it as your primary calling phone.
The Processor of both of these phones is exactly same. Both of these phones run on Snapdragon 800 SoC which comes with 4 Krait 400 cores which are energy efficient and fast. The Processor is assisted with Adreno 330 GPU which will allow you to enjoy great gaming experience on your wide screen.
Camera and Memory
The primary camera in Xperia Z Ultra has an 8 MP and is capable of full HD video recording at 30 fps. To provide the ultra slim form factor, Sony has compromised on the Mega Pixel count and the Camera Flash as well. The camera is a limitation and falls short of what we expect from a high end device.
Nokia on the other hand is famous for its magnanimous camera phones. The Nokia Lumia 1020 with its 41 MP camera is the best out there and we expect the Lumia 1520 to be a close second. This phone sports a f/2.4 Carl Zeiss lens and a 20 MP BSI sensor.
The camera also comes with Optical Image stabilization which helps avoid the motion blur while shooting videos and pictures. Nokia Pro Cam App which provides a user friendly Camera UI and lets you toggle various camera settings easily is also present in this phone. The secondary cameras are of 2 MP and 1.2 MP and the one on Z Ultra is capable of Full HD recording and the one in Lumia 1520 can only record HD videos.Nokia Lumia 1520 has a clear edge when it comes to Camera specifications.
The Internal memory in Z ultra is 16 GB and can be extended to 64 GB using MicroSD support. The Lumia 1520 will also offer you a 32 GB variant along with the 16 GB variant and MicroSD support up to 64 GB. 16 GB of internal memory will be sufficient for most people.
Battery and Features
Sony Xperia Z Ultra comes with a 3050 mAh battery which will give you ample talk time of 16 hours and standby time of around 800 hours. But when we are talking about bigger displays, more is always better and that's what you can expect to get from Lumia 1520's 3400 mAh battery which also comes with Built in Qi compatible Wireless charging.
On the Software front Nokia Lumia comes with Nokia Storyteller which automatically integrates your pictures from your phone with Nokia HERE Map location information and collates a chronological picture journey on a map. Nokia Beamer allows you to share experiences and ideas easily and instantly with friends or colleagues by projecting your phone screen to any HTML5 enabled screen.
Lumia 1520 runs on Windows phone 8 O.S. with GDR3 update and showcases and extra tile column at the sides. As we have mentioned Umpteen times, this is no match to Z Ultra's Android 4.2 Jelly bean Operating system with support for popular Apps like Instagram and a Notification center still missing. Like all other Nokia Lumia Phones, this will be a main limitation of this phone in spite of the brilliant hardware specs that we have talked about.
Key Specs
| | | |
| --- | --- | --- |
| Model | Sony Xperia Z Ultra | Nokia Lumia 1520 |
| Display | 6.44 inch Full HD | 6 Inch Full HD |
| Processor | 2.3 GHz Quad core Snapdragon 800 | 2.3 GHz Quad core Snapdragon 800 |
| RAM | 2GB | 2GB |
| Internal Storage | 16GB, microSD support | 16 GB/ 32 GB, microSD support |
| OS | Android 4.2 Jelly bean | Windows Phone 8 |
| Cameras | 8MP/ 2MP | 20 MP/ 1.2MP HD |
| Battery | 3050 mAh | 3400 mAh |
| Price | 44,000 INR approx | $750 |
Conclusion
Nokia did everything right with the hardware and even added some attractive and classy software features, but is held by the Windows operating system which is still running behind the operating system. With Android options like HTC One Max coming to India soon competition will be stiffer. Nokia Lumia 1520 will be cheaper than Nokia Lumia 1020 and will form an attractive option for Lumia fans who value a great camera in their handset. Sony Xperia Z Ultra will be a delight for those who don't mind enjoying the Android eco system on an extra large screen.
Xperia Z Ultra VS Lumia 1520 Comparison Review[Video]