Google today launched Helpouts, a new service which lets you connect with experts on any topic of interest including music, troubleshooting, cooking, workouts, etc. The service has been newly launched and number of experts and the area of expertise included will grow in coming times.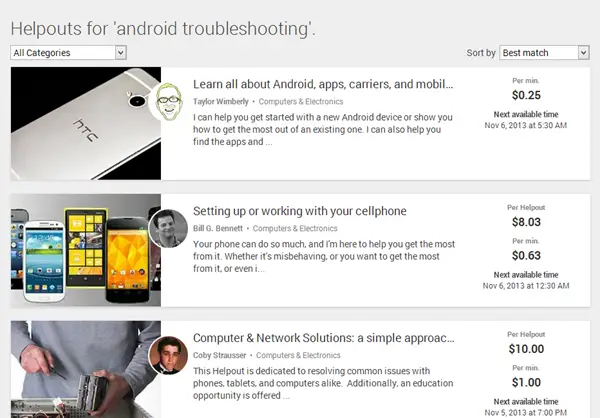 You can seek help prom trusted sources and use tools from Hangouts which include screen sharing, working on documents, recording, etc. The help you get is not necessarily free. When you search for topics in Helpouts window, you will get a list of experts which details about their next session and how much it will cost you per session and also per minute. You will also get to see the expert's qualification, reviews, rating and availability.
Google said on its official blog, "Today, we're announcing Helpouts—a new way to get and give help over live video. Our goal is simple: help people help each other. We want to use the convenience and efficiency of the web to enable everyone, no matter where they are or what time it is, to easily google+ helpoutconnect with someone who can help. Help might be a quick answer to a problem you're having right now, like how to fix your garage door, or how to remove a computer virus; or it might be guidance completing a project, like building a deck. It might be learning a new skill, like how to speak conversational French or how to draw cartoons; or it might be general advice on how to improve your fitness or your writing"
If you are an expert who would like to share your knowledge and earn some money while at it, you can request an Invite code from Google. If you need help you can seek an expert using Helpouts and Google gives a money back guarantee if the session was not up to your expectation. Enough with the words, watch the Google Helpouts Video to have a better insight. You can try Google Helpouts by clicking here.
Introducing Helpouts by Google [Video]