Another upcoming Samsung Galaxy series device is the Galaxy Core Plus, which was released in Thailand earlier today for a price that translates to $270. With nothing new in particular on the specs sheet, the device is among those from the Korean giant that target developing markets like the Indian sub-continent. Let us go ahead and speak about the device in more detail.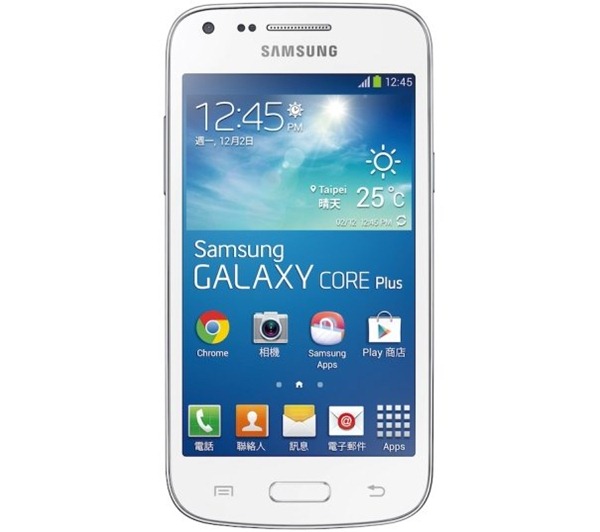 Camera and Internal Storage
The device features a rather modest 5MP shooter at the rear. This unit comes aided with the usual features including LED flash, autofocus, etc. On the front, the phone has a VGA shooter which again isn't mind-boggling. You can perceive this device as a Galaxy Core'd version of the Samsung Galaxy S Advance that came in previously.
Like most other low-cost phones which have seen a launch this year, the Core Plus too comes with just 4GB of on-board storage which we think is really not acceptable at this day and age. Manufacturers should ship devices with 8GB minimum. Coming back, the device does feature a microSD slot which allows expansion.
Processor and Battery
The phone comes with a 1.2GHz dual core processor, which means your lightweight daily apps like Gmail, WhatsApp, etc. will run with relative ease. However throw in something more demanding like NOVA 3 and the phone will tell you that it isn't capable of handling so much at once. Users who tend to use their phone only for productivity should think of this device as a candidate for their next. The device comes with 768MB RAM which isn't overly impressive as well.
The batter is an 1800mAh unit, which probably will give you about one whole day of backup on a single charge. This is thanks to the device having a rather small 4.3 inch screen.
Display and Features
The Core Plus packs a 4.3 inch screen, which is generally the preferred size for 'mini' phones. This 4.3 inch panel features a WVGA resolution of 800 x 480 pixels, and the screen in all will remind you of the Samsung Galaxy S2. What this also means is that you will be buying a device that is reminiscent of another which came in almost 2.5yrs back, so you might want to reconsider your options.
The phone will ship with Android v4.2. Nothing much on the features department, the device isn't meant to be a chartbuster anyway.
Looks and Connectivity
Samsung have gone for the typical Samsung look which has been around for more than a while now. With launches like this one, it gets tougher by the day to identify what device we're seeing, since almost all of them carry the same design language.
On the connectivity front, the phone features the usual set, i.e., Wi-Fi 802.11 b/g/n, Bluetooth 3.0, GPS, etc.
Comparison
Devices like XOLO Q800, Q700, Celkon Signature A107, etc. will make life tough for the Galaxy Core Plus.
KEY SPECS
| | |
| --- | --- |
| Model | Samsung Galaxy Core Plus |
| Display | 4.3 inches WVGA |
| Processor | 1.2GHz dual core |
| RAM | 768MB |
| Internal Storage | 4GB |
| OS | Android v4.2 |
| Cameras | 5MP/VGA |
| Battery | 1800mAh |
| Price | $270 at launch in Thailand |
Conclusion
We aren't very impressed with the device, and we've made it apparent. With the onslaught of Chinese and domestic manufacturers in countries like India, Samsung really need to pull up their socks and rethink their strategies. A device like this with a price tag of $270 (at least that's what it's got at Thailand), and we're speaking of a device that will soon be forgotten. Many quad core phones are available for under 10k INR in a country like India, and we see Samsung having a hard time trying to sell this device.