As the nations population gets aware about the need to stay fit, many fitness related accessories for gadgets like hand straps, wearable MP3 players and performance earphones (like the Puma Pro-Performance) are getting increasingly popular.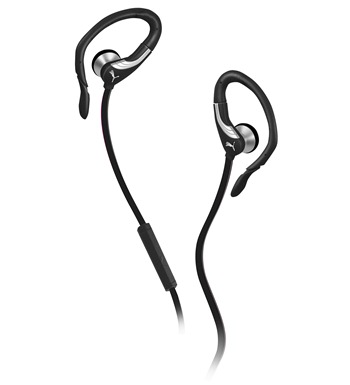 According to Puma, the Pro-Performance Earphones 'is the elite headphone every athlete needs'. The company claims that the earphones stay hooked to your ears even when there's extreme physical activity done by you.
The buds come with an adjustable ear hook, allowing you to move freely without worrying about the earphones falling off. The buds also sport a mic that allows the earphones to be synced with most devices to pause song, skip tracks, adjust volume, and even answer calls during your workout.
Speaking of the tech specs of the buds, they come with 14.8mm drivers on either end, with a 15Hz – 20kHz frequency response spectrum. The one good thing I like is that the cable Puma will provide will be 1.2m in length, allowing you to move freely. The cable will also be moisture-proof, so that your sweat, water or any other liquid will not be able to damage the cable. The company is also providing a Zip carrying case for easy storage and mobility.
The Pro-Performance Earphones come in 5 colours, i.e., Black, Orange, Pink, Red and White, and can be bought from intersection.in