Intex has now officially launched its first octa core smartphone Intex Aqua Octa (Initial Hands On review) priced at Rs. 19,999. The phone carries a massive display slightly larger than what we saw in Gionee Elife E7  (Initial Hands On review) recently. Both of these smartphones represent the flagship devices of two strongly emerging Android smartphone players in India. Let's compare them head to head to know where they stand.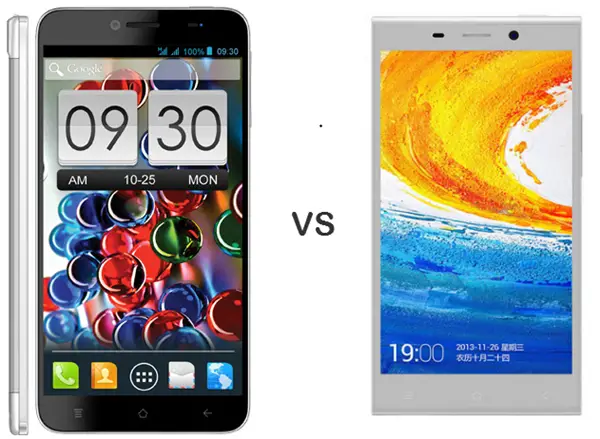 Display and Processor
The Gionee Elife E7 is a global offering from Gionee which comes with a 5.5 inch IPS LCD display with full HD 1080p resolution giving you pixel density of 401 pixels per inches. The display is one of the sharpest out there and is much more crisp compared to Intex Aqua Octa. The display also enjoys Corning Gorilla glass 3 protection.
The Intex Aqua Octa will provide you with slightly larger 6 Inch display. The IPS LCD Display also features One Glass Solution (OGS) technology, which eliminates certain display layers to give you closer, brighter and faster display. The pixel density of 720p HD display is 244 ppi and the display won't be as well protected.
Gionee Elife E7 ships with 2.26 GHz Snapdragon 800 processor which still remains the best processor in smartphones. The chipset has 4 power efficient Krait 400 cores along with Adreno 320 GPU which makes it a performance beast. The RAM capacity is 2 GB and 3 GB in the 16 GB and 32 GB internal storage variants, which will provide you with efficient multitasking.
The Intex Aqua Octa on the other hand carries the first true octa core chipset, MT6592, which houses 8 CPU cores clocked at 1.7 GHz. The GPU employed is Mali 450 MP4 GPU clocked at 700 MHz. The Snapdragon 800 in Gionee Elife E7 will definitely be a better performer.
Camera and Internal Storage
The Gionee Elife E7 boasts of world's most sensitive 16 MP camera. The camera has a Largan M8 lens with 1/ 2.3 inch sensor. The pixel size is quite large at 1.34 micrometer and this means, sensor will be capable of absorbing more light under low light conditions. The Front camera too comes with an 8 MP sensor.
The Intex Aqua Octa on the other hand features the standard 13 MP/ 5 MP camera combination that we have seen in numerous domestic manufacturer devices. This is quite far behind What Gionee is offering but is not that bad in the domestic scenario.
The Internal storage in Intex Aqua Octa is also same at 16 GB onboard storage extendable to 32 GB using MicroSD card. The Gionee Elife E7 on the other hand comes with 16 GB and 32 GB storage variants with non extendable storage. This will be a deal breaker for those who can't do without MicroSD card slot.
Battery and Other Features
The Battery capacity in Gionee Elife E7 is 2500 mAh and the battery is non removable. The battery capacity is not particularly impressive but will carry you through the day. The Intex Aqua Octa, with a larger display and more power hungry processor holds a smaller 2300 mAh battery which is a major limitation of this device. Despite the slim body design of Intex Aqua Octa (7 mm) the battery is removable.
The Intex Aqua Octa comes with dual Yamaha 1420 speakers with 1.2W output for good quality and loud audio. The Operating system employed is Android 4.2 Jelly bean operating system and it also supports Dual SIM functionality. Gionee Elife E7 on the other hand features Amigo 2 UI on Android 4.2 operating system, which we don't admire much.
Key Specs
| | | |
| --- | --- | --- |
| Model | Intex Aqua Octa | Gionee ELife E7 |
| Display | 6 Inch, HD | 5.5 Inch Full HD |
| Processor | 1.7 GHz Octa Core, MT6592 | 2.26 GHz Quad Core, Snapdragon 800 |
| RAM | 2 GB | 2 GB/ 3 GB |
| Internal Storage | 16 GB, Extendable | 16 GB/ 32 GB |
| OS | Android 4.2 Jelly bean | Android 4.2 Jelly bean based Amigo UI |
| Cameras | 13 MP/ 5 MP | 16 MP/ 8 MP |
| Battery | 2300 mAh | 2500 mAh |
| Price | Rs. 19,999 | Rs. 26,999/ 29,999 |
Conclusion
Yes, Gionee Elife E7 is a far better device and the 16 GB variant is offering Snapdragon 800 processor at a very competitive price. The Intex Aqua Octa on the other hand, for all its limitations is around 7,000 INR Cheaper. The cost difference shadows the shortcomings if you are a budget oriented buyer. Besides, it also offers extendable storage option and a removable battery. On the other hand, if budget is not an issue, and you are pretty serious about camera module in your smartphone, Gionee is the way to go.
Intex Aqua Octa, MT6592 Octa Core Phone Hands on Overview, Hardware and Specs Explained [Video]
Gionee Elife E7 Hands on, Review, Features, Camera, India Price and Overview HD [Video]