One among the newest entrants into the Canvas lineup of feature phones, the Micromax Canvas 2.2 is yet another budget smartphone with a 5 inch screen and a MediaTek processor. This time, Micromax choose to go for the MT6582M route; the newest quad core from Taiwanese fabricator MediaTek.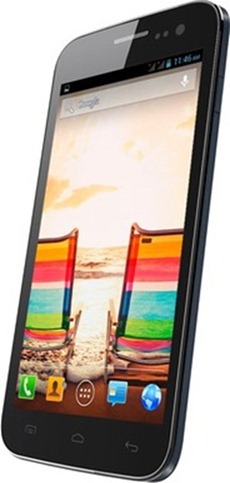 Does the Micromax Canvas 2.2 have it to beat the rest and rise? Let us find out.
Hardware
| | |
| --- | --- |
| Model | Micromax Canvas 2.2 A114 |
| Display | 5 inches, 960 x 540p |
| Processor | 1.3GHz quad core |
| RAM | 1GB |
| Internal Storage | 4GB |
| OS | Android v4.2 |
| Cameras | 8MP/2MP |
| Battery | 2000mAh |
| Price | 12,500-12,999 INR |
Display
As mentioned previously, the phone comes with a 5 inch display like many other budget devices. However, at an MRP of 12,999 INR, you would expect to have at least a 720p HD display (this is while Chinese manufacturers provide FHD) on the 5 inch panel. The qHD resolution of 960 x 540 pixels is a little disappointing, and that's where Micromax will probably lose buyers to competition like the XOLO Q1000.
About the size, with 5 inches you really can't go wrong; most Indians buying smartphones are usually the ones looking for an upgrade, and by the looks of it, 5 inches seems like the favourite size for a smartphone screen.
Camera and Storage
The device comes with a combo of an 8MP rear and a 2MP front camera. Again, Micromax could've done better with a 13MP rear. Having said that, it is possible that Micromax have included an above average sensor and assistive hardware, which honestly is a bit unlikely. The 2MP front facer should be enough for most, however.
Like we've been saying in the past (and would continue to do so if the situation doesn't improve), manufacturers should offer more than just 4GB of on-board ROM on device priced over 10k INR, which the Micromax Canvas 2.2 does not do. It comes with the same 4GB ROM we've been seeing for more than 2 years now. There's a consolatory microSD slot for further expansion, though.
Processor and Battery
The device features the MediaTek MT6582M chipset, which happens to be a variation of the latest quad core chipset from MediaTek. Clocked at 1.3GHz, the processor promises better performance than any of the previous MediaTek processors, which includes the 1.5GHz MT6589T. Antutu scores of devices running on this processor are nearly equal to that on devices with Qualcomm's Snapdragon S4 Pro.
The battery is a standard 2000mAh unit, which should give you one day of backup with moderate to average usage. Thanks to the Cortex A7 cores on the MT6582, power management is pretty good.
Form Factor and Competitors
Design
The device has a typical budget look with not many elements defining the design. However, manufacturers have found a sweet spot which isn't too radical and very acceptable.
Competitors
Multiple Zopo devices, etc.
Conclusion
Although an MT6582 powered processor for a price of around 12,500 INR is a good buy, there are things like a low resolution screen, lack or a high capacity battery, etc. that hamper the value proposition of this device. Having said that, the device would still be a good deal for around 11,000 INR, which we see happing in the next couple months. If you can hold off from buying a phone till then, well and good. Otherwise, you can consider other options listed above.