Earlier today, India's Intex took wraps off their latest entrant into the budget smartphone market, the Intex Aqua Curve. Like the name suggests, there is a curvy aspect to the device, namely the screen. Samsung were the first to step into this territory with the Samsung Galaxy Round that was introduced a few months back. Intex seem to have drawn inspiration from the same, and have blended this inspiration with their idea of low-cost phones to produce the Intex Aqua Curve.

Hardware
| | |
| --- | --- |
| Model | Intex Aqua Curve |
| Display | 5 inches, 960 x 540p |
| Processor | 1.3GHz quad-core |
| RAM | 1GB |
| Internal Storage | 4GB |
| OS | Android v4.2.2 |
| Cameras | 8MP/2MP |
| Battery | 2000mAh |
| Price | 12,990 INR |
Display
Like mentioned earlier, the Aqua Curve comes with a curved display. This is combined with the now-standard OGS technology to keep undesired thickness to the minimum. The curved display measures 5 inches diagonally, and presents a qHD resolution of 960 x 540 pixels, taking the pixel density meter to a not-so-great 220ppi. Anyway, it is the aspect of a curved display that Intex wuold be hoping to bank upon instead of the qHD resolution.
Camera and Storage
The device comes with an 8MP/2MP camera setup as you can see from the specs sheet posted above. Quite honestly, this is probably not enough if you want to sell the phone at over 10k INR at this point in time in the country. Other, albeit not all, manufacturers are offering upto 12MP cameras, which do seem quite a handful compared to the 8MP on this one. Nonetheless, the difference in final picture quality shouldn't be as much as it looks on paper; however many buyers continue to purchase phones based on their on-paper skills.
Storage is a very disappointing 4GB. 18gb or 16GB would've been something more likeable, but as is the norm with most MediaTek phones, the Aqua Curve too packs a paltry 4GB. As usual, there's a microSD card to take care of storage expansion.
Processor and Battery
MediaTek's MT6582 is a superb performer. Although the processor is clocked lower than the MT6589T's frequency of 1.5GHz, many have found phones based on the MT6582 to be smoother and faster in general usage as well as power usage. The cores on this one remain to be Cortex A7 ones, so its really not certain as to why it performs better than the MT6589T. However, all's well that ends well.
Battery on the device is a slightly disappointing 2000mAh unit, which should find it hard to take you through one day. MT6582 phones are known to be poor battery management devices, so be prepared to carry along a power bank or a wall plug with you if you plan to use the device for the entire day.
Form Factor and Competitors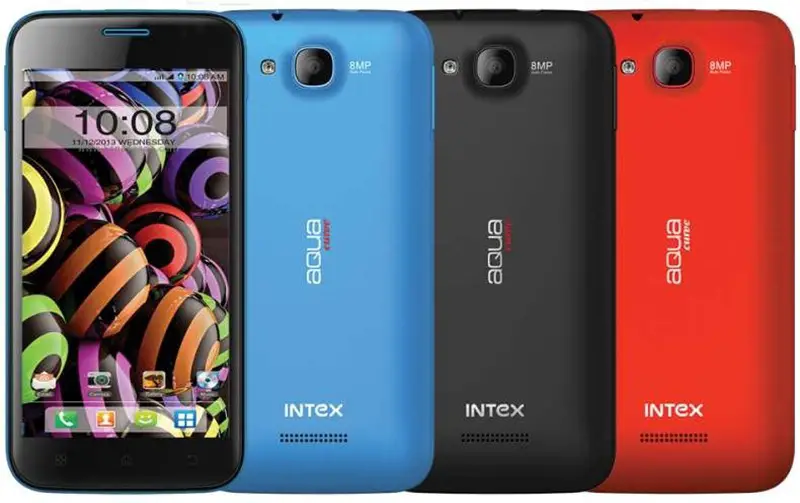 Design
Intex has taken up the style quotient up by a notch in the recent months, and the Aqua Curve is no exception. The curved display and multitude of colourful back panels add to the visual appeal of the device.
Competitors
Conclusion
Lets be honest, it's a well known fact that things like 'curved display' are a complete fad, a hit or a miss gone bad. However, there might still be some on the lookout to a cheaper alternative to Samsung's version of the curved display. One thing good, though, about the phone is the very decent MT6582 chipset, which will impress most. However, that should be enough to overlook the shortcomings on the device which include camera, battery, screen resolution, etc.