LG is in the middle of turning around its fortunes and will be depending on the recently launched LG G Pro 2 to cater to the top end phablet segment. It will hit Indian shores in March for a price of around Rs 45,000-50,000. The smartphone will be showcased at the Mobile World Congress and will start it global roll out after that. Let us have a quick review of the same: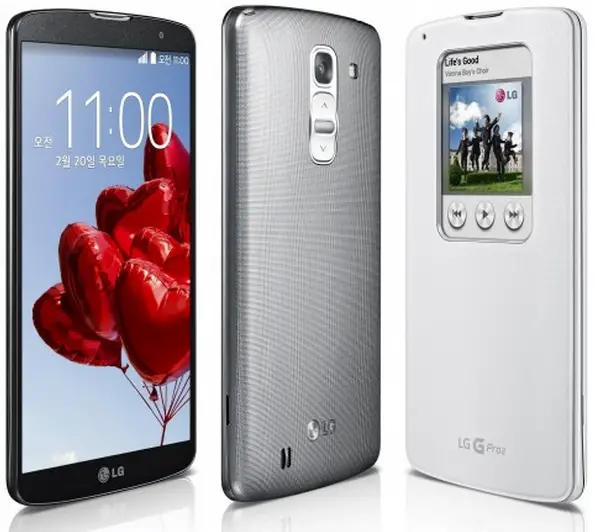 Camera and Storage
The smartphone comes shod with a 13-megapixel rear camera with LED flash and OIS+. It has a support for 4K Ultra HD video recording and slow motion video recording @ 120 fps. You get a slew of imaging features such as Magic Focus, Natural Flash, Flash for Selfie, Burst Shot and the likes. It is joined in by a 2.1 MP front snapper. The rear camera button looks like it is here to stay.
You get two memory options of 16GB and 32GB with a microSD card being made available as well in order to expand the memory by another 64GB. No complaints in imaging as well as the storage department as LG has done pretty well in both these areas.
Processor and Battery
The LG G Pro 2 gets a 2.3 GHz Snapdragon 800 quad core unit under the hood which is pretty much the best one on sale currently and nobody comes even close to it in terms of performance. It teams up with an Adreno 330 GPU which takes charge of the graphics department pretty well.
It gets a 3,200 mAh battery which will last it a little less than a day. LG should have put in a battery with a lot more juice because it is a pretty big screen that it has to power.
Display and Features
The smartphone comes shod with a 5.9 Inch Full HD IPS LCD panel which is surrounded with merely 3.3 mm bezel. The smartphone has a resolution of 1920 x 1080 pixels and the pixel density stands atLG has also given this phone 1W HiFi sound which will allow for a 30 percent boost in volume and quality over the predecessor.
It runs on Android KitKat and it gets a pretty less cluttered UI which was a major issue of the G Pro. You can use the mini view to decrease the screen size from 3.4-4.7 inches for single hand operations. You can also run two separate windows on the device courtesy of the dual browser.
The Knock On feature that has been bestowed upon on the device by LG is a way to wake up the phone without pressing any buttons. You can choose from a range of patterns to lock the device and you get the back screen functionality as well which was missing from the same last year. The patterns will work on multiple locations on the screen, thus helping you unlock the device in a pretty slick manner.
Looks and Connectivity
The smartphone looks like a bigger Nexus 5 up front and has a premium fit and finish to the rear which gets volume and camera keys. The smartphone weighs 172 grams and feels pretty compact for its size courtesy of the 77.2 percent screen to body ratio. It will be available in White, Red and Titan colour variants.
You get a pretty comprehensive connectivity package and you get LTE/3G HSPA+, Bluetooth 4.0, Wi-Fi 802.11 a/b/g/n/ac, NFC, and SlimPort which are going to take care of all of your connectivity needs.
Comparison
The flagship LG smartphone will be up against the likes of the Lumia 1520, Galaxy Note 3 and Sony Xperia Z Ultra. All of them have been around for a while and have gained a strong footing so LG will need to price it pretty aggressively to help it stand apart from the rest.
Key Specs
| | |
| --- | --- |
| Model | LG G Pro 2 |
| Display | 5.9 Inch Full HD |
| Processor | Snapdragon 800 Quad Core |
| RAM | 3 GB |
| Internal Storage | 16 GB / 32 GB |
| OS | Android 4.4 KitKat |
| Cameras | 13 MP / 2.1 MP |
| Battery | 3200 mAh |
| Price | To be Announced |
Conclusion
LG has done everything right with the G Pro 2 with the smartphone getting top of the line specs and a slew of camera and other software functionalities. Pricing will be the key for its success globally. Do let us know your opinion of the same in the comments section.