The Micromax Canvas Power and Gionee M2 are two new devices that open up a completely new range of smartphones for consumers in India. The devices come with mid-range specs and offer batteries that are well above average.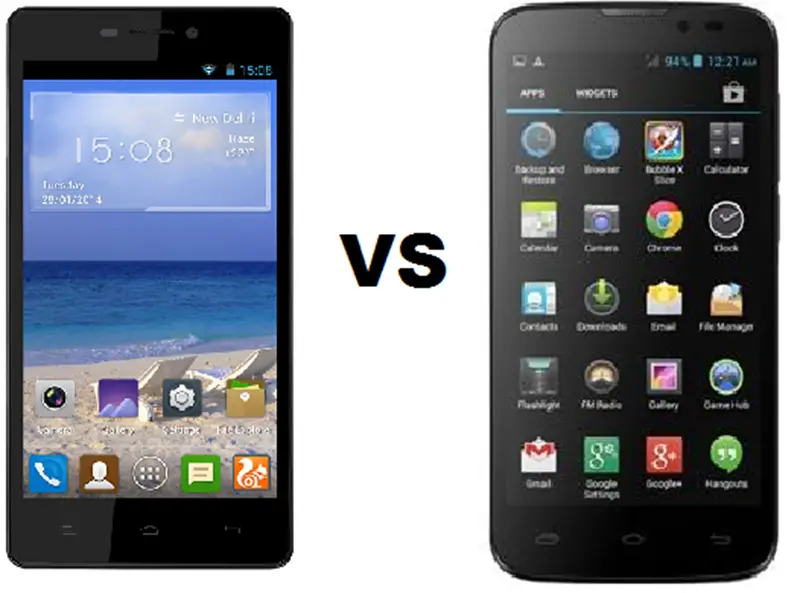 Both these devices are meant for those who need longevity more than processing grunt. So, which one should you go for? Keep reading to know!
Hardware
| | | |
| --- | --- | --- |
| Model | Gionee M2 | Micromax Canvas Power |
| Display | 5-inch, 854 x 480p | 5-inch, 854 x 480p |
| Processor | 1.3GHz quad-core | 1.3GHz quad-core |
| RAM | 1GB | 512MB |
| Internal Storage | 4GB | 4GB |
| OS | Android v4.2 | Android v4.2 |
| Cameras | 8MP/2MP | 5MP/VGA |
| Battery | 4200mAh | 4000mAh |
| Price | 10,999 INR | 9,900 INR |
 Display
Both devices come with what's seen as the average screen size for a budget smartphone. Even the resolution on the screens is same, at 854 x 480p through 5 inches.
The resolution clearly states that the devices are meant for long durability and not anything else. Many devices in this range offer 720p screens, but both these compensate via the extra-large capacity batteries.
Camera and Storage
Neither device is too well loaded on the imaging segment, especially the Canvas Power. While the Gionee M2 comes with a combo of an 8MP rear and a 2MP front, the Micromax Canvas Power comes with only a 5MP main shooter accompanied by a VGA front snapper. You can expect the M2 to easily surpass the Canvas Power on the imaging front.
Storage on both devices is a poor 4GB on-board. We'd finally started seeing better on-board storage, unfortunately companies still see this as a way to cut costs.
Processor and Battery
Processor on both these devices is the same 1.3GHz quad-core unit. However, a major difference is the amount of RAM; while the Gionee M2 packs a good 1GB, the Canvas Power comes with only 512MB of it. You're bound to feel the difference in real life usage. At this point in time, we would definitely recommend a 1GB RAM phone over anything lesser even if it means you have to pay a premium (which is the case here).
Battery! That's what these two devices are virtually made for. The 'M' in Gionee M2 stands for 'marathon', which is what the device will do for you. On the other hand, the name 'Canvas Power' is quite self-explanatory. The M2 and Canvas Power come with 4200mAh and 4000mAh of juice respectively, which should remind you of your first ever Nokia phone in real life usability. You can expect 2-3 days of usage on either phone, with the Gionee M2 taking the occasional lead.
Conclusion
We really like the idea of mid-range phones offering (much) above-average battery. Both players are still making names for themselves, with Gionee being the newer one of the lot.
However, the Gionee M2 seems like the obvious choice thanks to the slightly larger battery and 1GB RAM. This will definitely return much better performance than the 512MB on Canvas Power, and is worth paying the extra 1000 rupees for.