Well, we can't say that Samsung Galaxy Camera was a success but it was a unique gadgets, dedicated to the tech-junkie camera shooters. Wherein for the first time we were able to see the integration of camera with Android and it seems that Samsung has decided to take this product to a next level. Luckily Samsung does not have any competition in this area and they are progressing steadily to get a good grasp in this new market.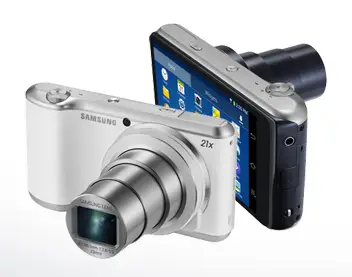 This product has been revealed in Indonesia and let us now talk about its specification in detail. The size of the display is 4.8 Inches with the HD resolution, though I cannot find the exact number of pixels in the spec sheet (only Super Clear LCD Touchscreen has been mentioned). The operating system on which it performs is the Android 4.3 (Jellybean).
The battery strength available on the device is 2000 mAh which is better from the last time (1650 mAh), though this has been upgraded but the figure is still low especially when it will be primarily used to click photographs. Another thing to notice is that the configuration of the primary camera is exactly the same from the minutest feature possible. The primary camera is of 16.3 MP with optical image stabilization, pop-up Xenon flash, AF light, Auto-focus, and Optical Zoom (21 times).
Key Specifications
| | |
| --- | --- |
| Model | Samsung Galaxy Camera 2 |
| Display | 4.8Inches, HD resolution |
| Processor | 1.6 GHz Quad Core Processor |
| RAM | 2 GB |
| Internal Storage | 8 GB, Extendable up to 64 GB |
| OS | 4.3 Android |
| Cameras | 16.3 MP/- MP |
| Battery | 2000 mAh |
| Price | Not Mentioned |
The internal memory and the RAM memory has been doubled since the last time, so now it has 8 GB of internal memory and 2 GB of RAM (the external memory support can add up to 64 GB, so feel free to record long videos). Last time, 1.4 GHz Quad Core Processor were used and now this has been slightly upgraded to 1.6 GHz Quad Core Processor (no mention about the architecture on which this processor is based).
The Corning Gorilla Glass coating 2 has been used again with the device. The device comes with all the new smart software features, example, Group Play, Share Picture, Share Music etc. (something which we have already seen in Samsung Galaxy S4).