Merely hours after they were leaked, Samsung has made its new Gear models, Gear 2 and Gear 2 Neo official and yes, Samsung ditched Android for its home brewed Tizen OS as was rumored earlier! Perhaps that's the reason Samsung Chose to drop Galaxy Branding this time. As the Neo Moniker suggests, the Gear 2 Neo is a cost effective option with some hardware compromises.

The design seems a bit more polished this time. The 4 screws which were deliberately made visible on Galaxy Gear are no more in sight. There is a physical home button and Camera is now part of the main body instead of being housed on the straps. This means you will be able to change straps for Gear 2 and Gear 2 Neo.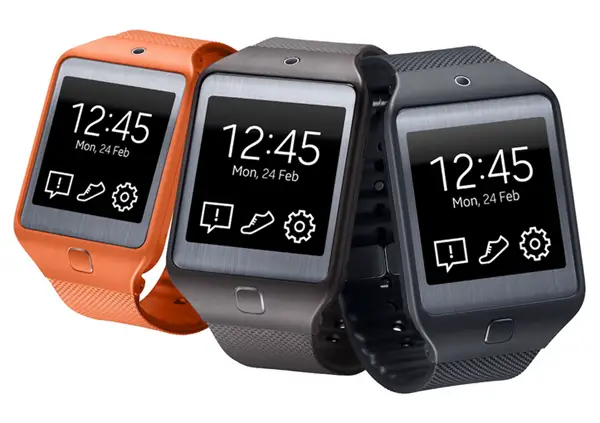 The Gear 2 and Gear 2 Neo sport a 1.63 inch Super AMOLED 320 X320 pixel display powered by 1GHz dual-core CPU with 512MB of RAM. The chipset is capable of playing 720P HD Videos. The internal memory is 4 GB similar to the predecessor. These smartwatches carry a 300 mAh battery which Samsung Claims will last for 3 to 6 days depending on usage. Connectivity features include Bluetooth 4.0 LE and IrLED.
Gear 2 and Gear 2 Neo are IP67 dust and water resistant certified, a quality much needed in smartwatches. The Gear 2 comes with a 2 MP shooter, which is the only thing differentiating it from the Gear 2 Neo. This time Samsung has included an iR blaster and Heart rate sensor in the device, which will facilitate their use as TV remote, along with monitoring your fitness. Samsung has also improved on processor and camera in the new models.
Gear 2 will be availablein Charcoal Black, Gold Brown and Wild Orange where as Gear 2 Neo will flaunt Charcoal Black, Mocha Grey and Wild Orange color changeable body straps. Both will be available sometime in April 2014. Major change in these new Smartwatches is Tizen Software.
Key Specs
| | | |
| --- | --- | --- |
| Model | Gear 2 | Gear 2 Neo |
| Display | 1.63" 320 X320 | 1.63" 320 X320 |
| Processor | 1 GHz Dual Core | 1 GHz Dual Core |
| RAM | 512 MB | 512 MB |
| Internal Storage | 4 GB | 4 GB |
| OS | Tizen OS | Tizen OS |
| Cameras | 2 MP | None |
| Battery | 300 mAh | 300 mAh |
| Price | To be Announced | To be Announced |