With the onset of the IPL (Indian Premier League), UC Browser has launched an exceptional version of UC Browser for Android called 'Cricket 2014 Version'. This special edition features an all new user interface that delivers comprehensive IPL substance and services to the cricket lovers.
The update to the Android app will allow the cricket fans to conveniently access up-to-date details such as previews, live scores, commentaries, stats, interviews, videos, photos and lot more. Furthermore, the 'Cricket' add-on notifies users of upcoming matches. Also, the exclusive IPL Guessing Game allows users to choose the winner of each match and collect all the points in order to win the free IPL match tickers, customized cricket gear and gadgets such as Apple iPhone 5s.
Live Scores a Single Click Away
The new interface of the UC Browser includes 'Cricket-Sport' folder on the homepage and a click on this will deliver the live scores of the current matches. A click on the scoreboard displays additional details such as news, stats, photos, videos, commentaries and others.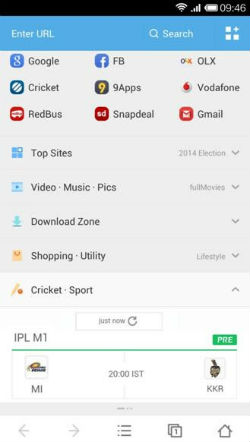 IPL Guessing Game
As mentioned above, this is an exclusive contest through which users can submit their guesses of which team will win in each match. Based on guesses such as the winners and the number of runs scored by the winning team, the users will receive points and they get a chance to win fantastic prizes.
Smart Cricket Add-on
The Cricket add-on is placed on the UC browser and it is a widget that updates the users with reminders and news feeds. It also generates a shortcut on the home screen of the device in order to allow easy access of the live scores and news. Users can also set automatic notifications to remind them of match timings.
Abhishek Sharma, Director of Marketing Communications at UCWeb India was quoted stating that, "The new UC Browser provides users with more interactive and intuitive cricket services. With a lot of IPL action happening on weekdays where cricketing enthusiasts might not have the resources or the time to catch live matches, UC Browser is a boon. It has a smart IPL zone that enables users to catch live scores, instant updates and even get timely reminders for the favourite team matches while on the move. We are empowering the users completely so that they never miss any IPL update in future. This is a very unique initiative from UC Browser which is definitely going to attract a lot of cricket fans in India."
In addition to the Android version of the UC Browser, the IPL 2014 content and services are also available as a part of UC Browser for Windows Phone.