Number of users in India with full internet access round the clock is increasing day by day and in the near future most of our day to day activities will go online. Since all activities require money, it would be wise to opt for a trusted online wallet, as the first step, which suits your needs, is secure and versatile.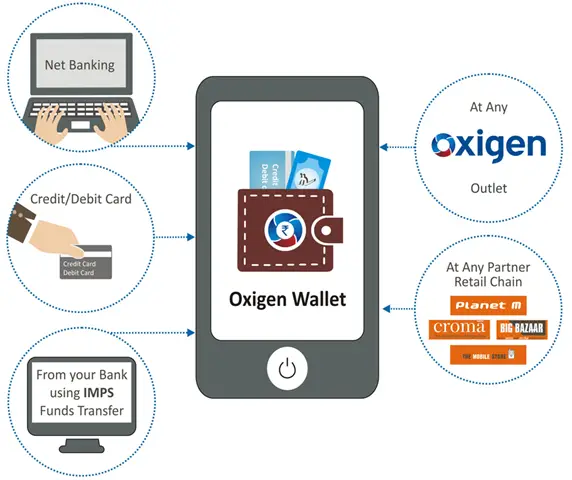 RBI approved Oxigen Wallet is one such wallet you can try. In case you are skeptical about sharing your account details online, the wallet provides you with the option to deposit money in nearby OxiCash store and use it for Online shopping, Money transfer, Mobile recharges, Bill payment, etc. depending on the type of wallet that you use.
You can visit company's official website to get started. You can opt from Oxigen 10,000 and Oxigen 50000 Wallet. 10,000 and 50,000 represent respective cash limits in your wallet. While you can register easily for Oxigen Wallet 10000 via SMS or online registration, the Oxigen 50000 Wallet requires you to submit ID proofs and other details.
Only one wallet is allowed per person. The good thing about Oxigen wallet is that it allows you to transfer money to other bank accounts (only for Wallet 50,000) a feature which is not very common in online wallet services in India.
You can withdraw your money back to your bank account in Wallet 50000 and not in Wallet 10000. You can recharge OxiCash account via OxiGen and partner retail outlets (including Chroma, Bigbazar and The Mobile Store). Via Credit card or Debit card, only 1,000 INR top up is permitted per transaction.
Another limiting factor is the number of OxiCash partners. Almost all Major telecom and DTH operators accept wallet payment, but beyond that the list is still slender. The other highlights, like money transfer to bank accounts will offset these limitations for most people. You can also use Oxigen Wallet services via Android Apps available.