Wi-Fi Direct is a new Wi-Fi standard that allows devices to connect directly to each other at typical Wi-Fi speeds without the requirement of a wireless access point. With higher speeds of data transfer and its ability to connect devices from different manufacturers, Wi-Fi Direct is becoming popular day by day, and is even expected to replace the need of Bluetooth features on future devices. For a detailed look at its advantages over Bluetooth, refer to the linked article.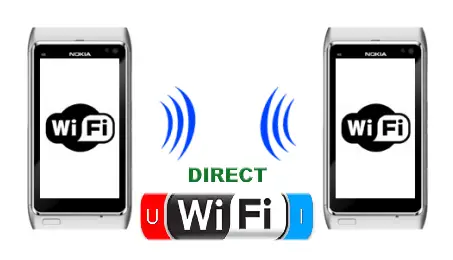 Adding to the appeal of Wi-Fi Direct is the fact that Wi-Fi direct uses WiFi Protected Setup (WPS) protocol and that it is backward compatible – it does not require any extra hardware on the device and works as part of the standard WI-Fi Radio, allowing devices with old Wi-Fi setups to use the functionality as well.
Let us examine how Wi-Fi direct works, and how can it be enabled on different devices.
How does Wi-Fi Direct work?
To understand the concept behind Wi-Fi Direct and how its architecture is different from that of the normal Wi-Fi we use, let us first consider how two devices are connected over a Wi-Fi network. In a Wi-Fi network, a Wi-Fi Router creates an access point or gateway for connectivity. Two devices which need to establish a connection between themselves have to go through this access point. Therefore, the Router acts as an extra but necessary appendage in the setup.
In the case of two devices connecting through Wi-Fi Direct, limited wireless access points are created on the devices, using software within those devices. Thus, the devices can act both as the access point and the client using those access point, eliminating the need of a separate access point or gateway. For an all-inclusive look at Wi-Fi Direct, refer to our article here.
Using Wifi Direct on devices having stock Wi-Fi Direct software
Most Android devices today come with a Wi-Fi Direct option included in the Wi-Fi Settings. For those which don't, there is always the option of downloading an app from the Play Store, and that would be discussed in the later part of this article. Devices which have Wi-Fi Direct from stock can however be connected to each other without installing any extra apps.
For example, most Samsung devices have excellent inbuilt Wi-Fi Direct capabilities and can be connected to each other very easily. The Wi-Fi Direct option can be found on the bottom of the Wi-Fi Networks menu on Samsung devices.
When users select that option, the device will itself start scanning for other devices with Wi-Fi Direct capability available within range and display those. With a single tap, users can choose the device to connect to.
An invitation would then be sent at once to the second device and on successful acceptance, a Wi-Fi direct connection would be established between the two devices. Once connected, users can easily share files between the two devices.
It should be noted that while establishing a connection between devices from the same manufacturer having inbuilt Wi-Fi Direct capabilities is very easy, connecting devices from different manufacturers might be a bit problematic at times. This is basically due to differences in the Wi-Fi software, and third party Wi-Fi Direct apps from the Play Store solve this and related problems most of the times.
Using third party Wi-Fi Direct apps
Wi-Fi Direct apps available on the Play Store allow devices without in-built Wi-Fi Direct capabilities to connect to each other, as long as the Android OS on these smartphones support these apps and the devices have Wi-Fi capabilities. Some of the popular apps amongst these are SuperBeam, WiFi Shoot etc.
SuperBeam could be said to be the most popular among these apps, with over a Million users. The free version of the app has to be installed on both devices being connected to complete the transfer process. On the homepage of the app itself users can select from amongst multiple options to send or receive files.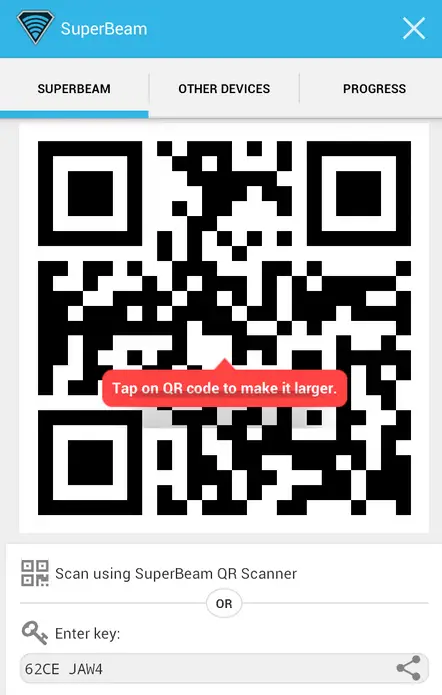 Users can transfer Audio, Video, Picture or any other type of file by selecting the respective file. A QR Code would be generated on selection of the file or multiple files on the device which is sending the data and this QR Code can be scanned by a QR scanner available in the 'Receive' section of the app on the device which is receiving the data. Users can also use NFC to begin the connection on the two devices.
On Successful scan of the QR Code, transfer would begin and on completion a notification message would be displayed on the devices stating that the SuperBeam has been completed.
SuperBeam Pro version provides many extra features, such as transferring data to devices on which SuperBeam app is not present, transferring complete folders, transferring Data using manually entered keys instead of the QR Code or NFC etc.
Conclusion
Wi-Fi Direct, with its numerous advantages, is likely to become the preferred choice of users for peer to peer data transfers in the upcoming years. As more manufacturers and developers start working on this relatively new Wi-Fi standard, more stable apps would be developed and uniformity would be introduced on Wi-Fi Direct softwares from manufacturers.
With these steps, the chinks in the armour of current Wi-Fi Direct softwares will be reduced, and users will be able to utilize this standard on various devices by various manufacturers, leading to a better connected and consequently better informed world.