Rar and Zip formats are used to compress large data in to smaller files. These apps help you stack together many files into one file which can be easily shared and downloaded from the cloud. You can avoid the hassle of emailing several files and instead just pack all in a single Zip or RAR file and you are free. Let's take a look at the zippers which help you do that on your portable Android device.
AndroZip File Manager
AndroZip File Manager helps you copy, move, unzip, compress, encrypt and organize your files, music, pictures and folders. The app supports ZIP, RAR, TAR, GZIP and BZIP2 file formats. AndroZip File Manager has over 13 million downloads and an average rating of 4.3 stars.
Features like drag and drop make it a very useful app. On top of that you also get a task killer which is an added feature. AndroZip File manager houses a file explorer, archive manager, app backup tool synced with a simple interface.
Easy Unrar, Unzip & Zip
Easy Unrar, Unzip & Zip allows you to extract rar and zip files. The app has a built in browser, supports all versions of rar files and archives supported by a password. The app has more than 10,000,000 downloads with nearly 40,000 rating it as a 5 star app.
The app guarantees quick extraction from zip files. The app has a nice clean interface with a big font size. Overall the app includes basic unzipping/ zipping and a file explorer.
RAR for Android
RAR for Android includes a compressor, archiver, assistant, extractor, manager and a basic file explorer. The app can handle a wide range of extensions namely RAR, ZIP, TAR, GZ, BZ2, XZ, 7z, ISO, ARJ.
The app can repair damaged files, encrypt them and has a benchmark function which allows to rate the compression and decompression speed on your phone. For archiving you get a variety of options which help you decide the type of archive you want to create. There is also a navigation panel that slides from the left and it also includes past history of the archived files. The app is highly rated with an average rating of 4.4 stars.
B1 Free Archiver zip rar unzip
B1 Free Archiver can work with 34 file formats and even you can play with those password protected files. The app has multi language support of 30 languages. The app has more than 1,000,000 downloads with an average rating of 4.5 stars.
Impressive features include the option of partial extract where you get to choose which file to extract. All in all in a very powerful ad free app with a neat and clean UI.
Simple Unrar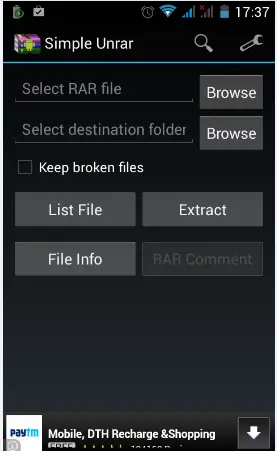 Simple Unrar extracts rar file, password protected rar file, multi part rar files and does the rest of the basic functions of an unzipper. Other features include selective extraction and a file browser.
The app has more than 1 million downloads with an average rating of 4.2 stars. The app is translated to 12 languages and also supports the latest RAR ver. 5. But the downside is that the Zip support is still in the experimental stage. So you will not get all the features when handling Zip files.
Conclusion
These zippers are necessary when you have to deal with with many files and heavy files at a time. They help you compress many files into one and makes your job a hell lot easier when sharing such files.  If you find some other Zip file App more convenient to use, let us know in the comment section below. Other similar apps which provide zipping capabilities include WinZIP, Unrar and AndroZip.