Recently, Motorola had come up with a new entry-level smartphone launched at a press event in New Delhi – the new Moto E. The device had been a subject of various rumours and was already expected to rival many other entry-level smartphones from other manufacturers, and was launched at the very affordable price of Rs.6999. It is already making waves in the market, with excellent consumer response to the device.
However, it is is fair to assume that competitors won't merely wait and watch Motorola claim the keys to the kingdom of entry-level smartphones – they will challenge it, by bringing to the user the best device they can offer within that price range, all in turn working in the benefit of the consumer. And Micromax has proven this true, with the launch of the new Micromax Unite 2. Launched at the same price of Rs.6999, Micromax has openly challenged Motorola with this new device. Let us have a quick look at how the two devices stand in comparison to each other.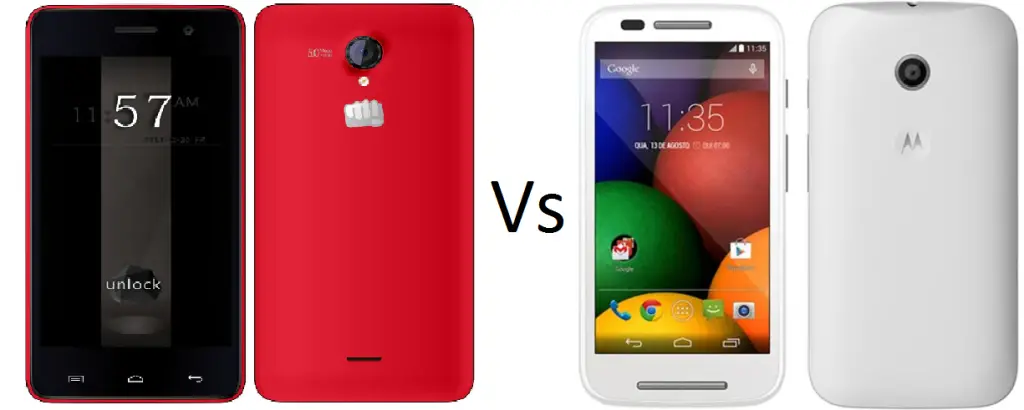 Display and Processor
The Moto E comes with a 4.3 inch IPS LCD display along with a qHD resolution of 960X540 pixels. At this price range, this display resolution is great and gives the device the pixel density of 256 ppi, which is again pretty decent for the range.
On the other hand, the Micromax Unite 2 comes with a larger 4.7 inch IPS display. The catch here is the lower resolution of 800X480 pixels, which gives it a comparatively lower pixel density of around 199 pixels per inch. Lower resolution might result in pictures which are grainy, and the display would not be as clean and clear as of Moto E's.
Coming to the processing power, the Moto E comes with a 1.2 GHz dual core Snapdragon 200 chipset with an Adreno 302 GPU. While the chipset in itself is merely okay, the presence of 1 GB RAM in the device will help the device when performing multitasking and graphically intensive tasks. In comparison, Micromax is offering the users a quad-core processor, the 1.3 Ghz MediaTek MT6582 processor (most likely)  with 1 GB of RAM and a Mali 400 GPU.
It is no great surprise that Micromax has launched the Unite 2 with a quad-core processor – it is in stark contrast to the dual core processor of the Moto E, and Micromax expects it to be one amongst the multiple points of differentiation which will attract customers.
However, the fact is that it is an appropriate mixture and sync of the software and hardware which decides how fluid the functionality of a device would be as discussed in our article on sync between the hardware and software. Moto G and Moto X have already proven their mettle in this regard, coming in top of devices with better hardware specs, and therefore Moto E comes from a family of devices which have a history of performing better than it's heavier loaded competitors.
That is not to say that Micromax devices don't have a similar level of fluidity in their interface and performance – some Micromax devices have been excellent performers in this regard, and we will have to wait and watch how the Unite 2 performs.
Camera and Internal Storage
In our earlier comparison articles of Moto E we have seen that it is the camera department where Moto E bows down a bit to its competitors, with the absence of a front facing camera and that of a LED Flash.  For those who regularly use video conferencing apps like Skype or take a lot of selfies, this would be a disappointment. The front camera is a 5 MP camera just like Moto G but the picture quality is vastly inferior. It is also a fixed focus unit.
The Micromax Unite 2 feature a 5 MP primary camera on the back and a 2 MP front Camera. The presence of the front camera is again where the Micromax device scores one over the Moto E, as is the presence of LED flash and Autofocus with the primary camera. Besides, Micromax
Both devices have 4 GB internal storage, which is very low for those of us who would like to install a lot of apps, games, and download or use a lot of media files. To overcome this limitation, both devices offer a microSD card slot on the device body, which allows users to use expandable memory of upto 32 GB.
Battery and Features
The battery which come comes with the Moto E is a 1980 mAh Lithium-ion unit. Motorola has promised that the device will be good for 24 hours of normal day-to-day usage. Micromax Unite 2 on the other hand comes with a 2000 mAh Lithium ion battery, which in theory is slightly greater than Moto E's power source. However, users should note that a bigger screen has higher power requirements, and the Unite 2 might just falter in this regard.
Motorola has launched the Moto E with Android 4.4.2 KitKat, and users can expect timely updates of newer versions of the Android OS. More software features of the device will become clear with time. The Unite 2 is Micromax's first device to be launched with the latest Android KitKat 4.4.2 and is being touted as the 'world's first Phone with 21 languages support'. Moreover, it will come loaded with a multitude of pre-loaded applications such as MAd, Getit, Hike, Kingsoft Office etc.
Key Specs
| | | |
| --- | --- | --- |
| Model | Moto E | Micromax Unite 2 |
| Display | 4.3 inches, 960X540 | 4.7 inches, 800X480 |
| Processor | 1.2 GHz Dual Core | 1.3 GHz Quad Core |
| RAM | 1 GB | 1 GB |
| Internal Storage | 4 GB, Expandable up to 32 GB | 4 GB, Expandable up to 32 GB |
| OS | Android 4.4.2 KitKat | Android 4.4.2 KitKat |
| Camera | 5 MP, No front camera | 5 MP/2 MP |
| Battery | 1980 mAh | 2000 mAh |
| Price | Rs.6999 | Rs.6999 |
Price and Conclusion
One look at the price tags of these two devices can confirm that Micromax has launched it's device in direct competition to the Moto E – both devices are priced at exactly Rs.6999. Many features and hardware specs of these two devices are very similar, but there are some evident differences. The display of the device is one of the most important feature of a smartphone, and in this field, Moto E is ahead of the new Micromax Unite 2. On the other hand, presence of a quad core processor along with a secondary camera and LED Flash are all points in favour of the Micromax Unite 2.
Moto E however has two very successful predecessors devices – the Moto X and the Moto G – which will work in it's favour. Users might go for it purely on the basis of the brand name, and though Micromax has come up with a very good product for the price, it has an extremely tough fight on it's hand given that the Moto E is available for the same sum.