With increasing concerns regarding privacy and protection of online accounts, it looks social networking giant Facebook has got serious with the privacy of users on the network. In a latest blog post, Facebook announced that it modifying the default privacy settings to make the new status updates visible only to Friends instead of Public.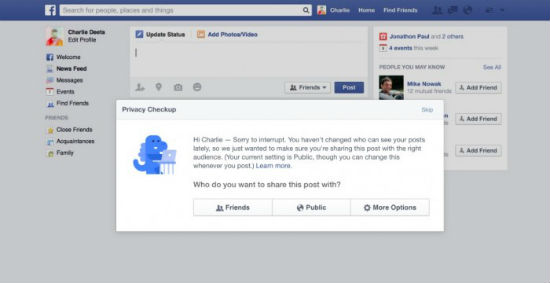 Consequently, from now on users will be able to see that their status update and posts are private. The first time Facebook users will see a reminder that lets them choose the audience for their very first post, however if they fail to make a choice, it will be set to Friends by default. It should be noted that at any point of time the audience can modified and this is applicable even with the past posts.
The existing users will receive this new expanded privacy checkup tool in the coming weeks. With this new tool, users can review certain aspects such as who they are posting to, the apps that they use and the privacy of information on their profile. In simple words, Facebook will provide you with options that can make private on the social network and enjoy better user experience.
Interestingly, for the very first time, the privacy of the users moves away from Facebook to the users themselves. Also, the firm has introduced a simplified audience selector for the iOS app that lists the audience of the posts at the top to grab the user's attention.