Apart from YouTube and Google Translate, Google has also updated Google Hangouts with some new features and Bugfixes. The complete changelog is not yet listed on Playstore but there are several visible changes. Take a look at what's new in Hangouts v2.1.223
Assign Separate Tones
In Google Hangouts, you can now assign different chat message sound and different call sounds to separate contacts. To do this just open a hangout and press the list button. Tap on "People & Options" and change the individual Hangout options accordingly.
Hidden Contacts List
You can hide the contacts by long pressing a contact in previous version of hangouts also, but after the new update you get hidden contacts list next to block people list so that you can easily manage and unhide hidden contacts.
To access this list, tap settings>> Account (listed as your email ID)>> Hidden Contacts
Keypad Toggle
After the integration of Google Hangouts with SMS, this is a very handy feature in this new update. You can now toggle between Qwerty keyboard and number pad. This way, you can easily search SMS/ hangouts using contact phone number.
Bonus Tip: To update your Playstore, you can go to into Settings and tap the Build number listed at the end. Playstore will prompt you if an update is available. Google has updates its Playstore yesterday and you can check if the update is available on your Android.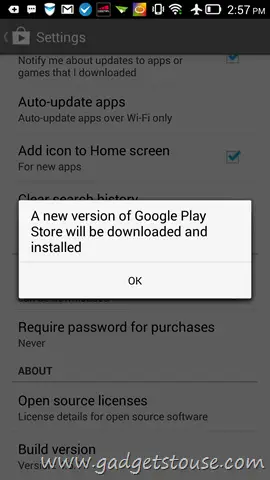 How to Download
The update has started rolling out on Playstore, but it will take some time to reach everyone. You can download the APK file from the download link below and side load it to update right now. Just put the apk on your android and locate it in any file manager, simply taping it will install the update.
Download Link: Hangouts 2.1.223 [APK][~ 15 MB]