Moto E has taken the entry level smartphone market by storm and it has surely made other smartphone manufacturers think a bit about their devices when it comes to offering a value for money device. Nokia had recently launched the Lumia 630 in India for Rs 10,500/11,500 (single SIM/dual SIM) which is also quite a value for money device. The Lumia 630 in dual SIM guise can be bought for around Rs 10,000-10,500. We'll be comparing the dual SIM version of the Lumia 630 with the Moto E today. Let us see which one fares better: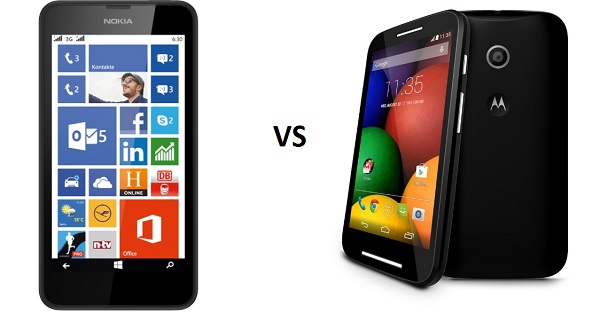 Display and Processor
The display unit of the Lumia 630 is a 4.5 inch one which has a resolution of 854 x 480 pixels. It results in a pixel density of 218 ppi which does not look bad on a Windows Phone but you can notice slight pixelation when you view high resolution videos and games. The Moto G on the other hand has a better screen resolution of 960 x 540 pixels on a 4.3 inch screen which results in a pixel density of 256 ppi. It is slightly smaller but is a slightly better unit to look at.
The Lumia 630 comes with a 1.2 GHz quad core Snapdragon 400 chipset under the hood which outshines the 1.2 GHz dual core Snapdragon 200 of the Moto E by a wide margin. The Lumia 630 is let down by its 512MB RAM whereas the 1GB RAM of the Moto E allows for a better optimization of the device and gives you somewhat a similar experience to the Lumia 630.
Camera and Internal Storage
Both the devices are evenly poised in terms of camera. They both come with a 5MP rear camera without a flash and don't get a front camera either. Moto E sports a Fixed focus shooter unlike Autofocus rear snapper in Lumia 630, which gives better image quality by a significant margin.
Internal storage is where the Lumia 630 comes across as a winner hands down. It gets 8GB of internal storage against the 4GB of Moto E. The Moto E is not match for Lumia 630 in terms of expandable storage either as the Nokia offering supports microSD cards of upto 128GB whereas the Motorola offering will allow you to expand the memory by only 32GB.
Battery and Features
The battery unit inside the Lumia 630 is a 1,830 mAh one and it lasts for a slightly less duration than the 1,980 mAh unit of the Moto E. Both of them feature a good level of battery optimization but if you forget to charge your device for more than a day, it is highly likely that it is the Moto E which won't ditch you.
The Moto E runs on Android 4.4.2 KitKat and has started getting the 4.4.3 update too. It will also get the next major Android update. The Lumia 630 runs on Windows Phone 8.1 out of the box and it comes with a SensorCore chip that works as a personal health assistant for you.
Key Specs
| | | |
| --- | --- | --- |
| Model | Nokia Lumia 630 | Moto E |
| Display | 4.5 inch, 854x480p | 4.3  inch, qHD |
| Processor | 1.2 GHz Quad Core | 1.2 GHz dual Core |
| RAM | 512 MB | 1 GB |
| Internal Storage | 8 GB, Expandable | 4 GB, Expandable |
| OS | Windows Phone 8.1 | Android 4.4 |
| Cameras | 5MP/ No front camera | 5 MP/ No front camera |
| Battery | 1,850 mAh | 1980 mAh |
| Price | Rs 10,500/11,500 | Rs. 6,999 |
Conclusion
The Lumia 630 comes across as our choice of device between the two but that does not mean the Moto E is a bad either. It is a bit hard these days to find yourself a Moto E and Lumia 630 is readily available. Lumia 630 has a bigger screen, better features and a better processor too. It justifies the price tag and will give you bang on value for the money spent.