The mid-range smartphone market segment is booming rapidly in the country as there are many solid and capable devices in this range. One of the smartphones that is best selling in the sub Rs 25,000 price bracket is the yesteryear flagship model from Motorola – Moto X. Another smartphone that is aimed at competing with this handset bearing the same price tag is the HTC Desire 816. If you are looking for a mid-range smartphone based on Android KitKat operating system, here is a detailed comparison between the two smartphones to analyze the best suited one as per your requirement
nts.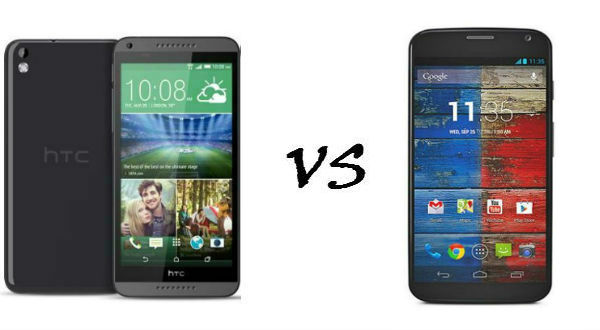 Display and Processor
The HTC Desire 816 is fitted with a 5.5 inch Super LCD 2 display packing HD resolution of 1280×720 pixels. Of course, this panel will consume less power and hence reduce the battery drain issue to a great extent. In comparison, the display on the Moto X smartphone is a 4.7 inch AMOLED panel that also arrives with HD resolution featuring 1280×720 pixels. Furthermore, the Moto X display is layered with Corning Gorilla Glass coating for additional protection and the AMOLED panel will render good color reproduction and conserve the battery life.
Though there is not much difference between these two display panels, the smaller screen on the Moto X has an increased pixel density of 312 pixels per inch, whereas the one on the HTC phone has a pixel density of only 267 ppi.
On the processing power segment, the HTC Desire 816 is equipped with a 1.6 GHz quad-core Qualcomm Snapdragon 400 processor that is claimed by HTC to support fast streaming capabilities and quick refresh rates. On the other hand, the Moto X is stuffed with a dual-core Qualcomm Snapdragon Pro processor ticking at 1.7 GHz clock speed.
Paired with these processors, the Moto X incorporates 2 GB of RAM that can take charge of multi-tasking in a better manner as compared to the smaller 1.5 GB of RAM in the HTC Desire 816. The Moto X can deliver high end performance even with two cores. To know how Moto X manages high end performance with only 2 cores, you can read the recommended link below.
Camera and Internal Storage
The HTC Desire 816 features a 13 MP primary snapper that is teamed up with auto focus, LED flash for better low light imagery, FHD 1080p video recording and HDR shooting mode. This camera is paired with a 5 MP front-facing camera that can shoot HD 720p videos.
Going by comparison, the Moto X arrives with a 10 MP main camera at its back that is accompanied by LED flash, 4x digital zoom, FHD 1080p video recording, auto HDR, Quick Capture and more. This camera is supplemented with a 2 MP front-facer that helps in making video calls. The offerings from HTC are known for their photography capabilities and hence, we can expect the camera set in the Desire 816 to deliver better quality.
On the storage front, the HTC Desire 816 packs 8 GB of internal storage space that can be expanded up with a whopping 128 GB of expandable storage via a micro SD card. On the other hand, the Moto X bundled increased 16 GB of native storage capacity that unfortunately cannot be expanded.
Battery and Features
The battery capacity in the HTC phone is 2,600 mAh that is rated to deliver 21 hours of talk time and 737 hours of standby time. In comparison, the Moto X has a lower 2,200 mAh battery capable of pumping in a life of 13 hours of talk time and 576 hours of standby time.
When it comes to the software, the Moto X is upgraded to Android 4.4.3 KitKat, while the Desire 816 is based on Android 4.4.2 KitKat. Otherwise, the HTC phone arrives with enhanced features such as Video Highlights, dual frontal speakers with BoomSound and HTC BlinkFeed. On the other hand, the Motorola offering has a slew of features such as Active Display, Migrate app and Touchless Control.
Key Specs
| | | |
| --- | --- | --- |
| Model | HTC Desire 816 | Moto X |
| Display | 5.5 inch, HD | 4.7 inch, HD |
| Processor | 1.6 GHz Quad Core | 1.7 GHz Dual Core |
| RAM | 1.5 GB | 2 GB |
| Internal Storage | 8 GB, Expandable up to 128 GB | 16 GB, Non-Expandable |
| OS | Android 4.4.2 KitKat | Android 4.4.3 KitKat |
| Camera | 13 MP/ 5 MP | 10 MP/ 2 MP |
| Battery | 2,600 mAh | 2,200 mAh |
| Price | Rs 23,999 | Rs 23,999 |
Price and Conclusion
When it comes to the pricing, both the smartphones are priced similarly at Rs 23,999 and hence, they do not make a great difference in this aspect. But, for the same pricing, they arrive with way too different specifications. Moto X can do everything your quad core smartphones can do in spite of 2 less cores. Both phones will provide you great day to day experience and based on our time with both of these phones the difference in the resolution won't be a deal breaker either. The choice between the two narrows down to weather you crave for a large display phone or a compact easily pocket-able device. The touchless control and assurance for future updates is a bonus for Moto X.