Asus today introduced a Moto E competitor in the budget price range,Asus Zenfone  4, which comes loaded with commendable entry level hardware including 1 GB RM and 4 GB internal storage. The Astus Zenfone  4 is a tough contender in the budget price range and comes with admirable hardware spec sheet. We had the opportunity to take a look at these features in action at the launch event, and here is what we saw.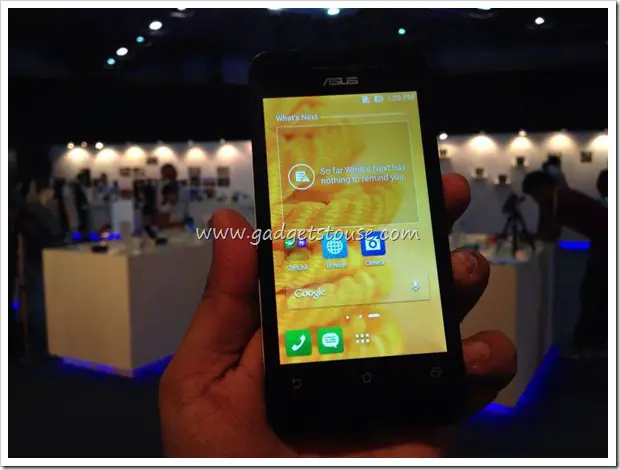 Asus Zenfone 4 Quick Specs
Display Size: 4 Inch  LCD, 800 x 480 resolution, 233 PPI, Corning Gorilla Glass 3 protection
Processor: 1.2  GHz dual Core Intel Atom Z2520 processor with PowerVRSGX 544 GPU clocked at 300 MHz
RAM: 1 GB
Software Version: Android 4.3 Jelly bean (customized)
Camera: 5 MP
Secondary Camera: VGA
Internal Storage:  8 GB
External Storage: MicroSD support up to 64 GB
Battery: 1600 mAh (removable)
Connectivity:  HSPA+, Wi-Fi, Bluetooth 4.0 with A2DP, aGPS,  Micro USB 2.0
Dual SIM (Both Micro SIM)
Asus Zenfone 4 Hands on Review, Price, Comparison, Camera, Software and Overview [Video]
Design, Build and Display
The Design language is the same that we saw on Zenfone 5 or Zenfone 6, only that this is the smallest of the three. For 5,999 INR , this is one of the best build phones that we have come across and it is available in sevelral different punchy color shells, which you can choose from according to your taste. The metallic keys, ergonomic design and the metallic strip running below navigation all make it quite attractive.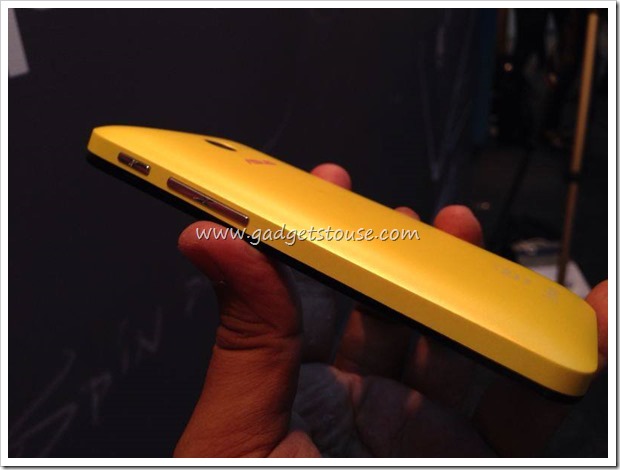 The 4 inch display is not the highlight of this device, with WVGA 800X 480 pixels spread across it, it's not wining any PPI wars either. The display is however quite usable with not so good viewing angles and good colors in our initial testing. We will rank it better than numerous washed-out displays that we see in entry level segment, but definitely below Moto E. You still get Corning Gorilla Glass 3 which makes the display extremely durable.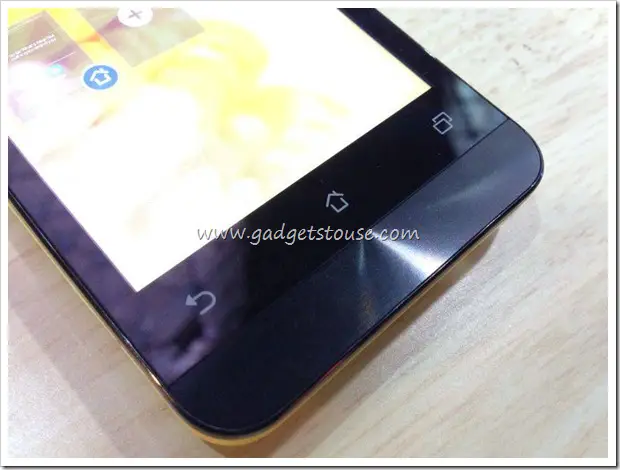 Processor and RAM
The processor employed is Intel Atom Z2520 with two Intel cores. These cores are different from Cortex A7 ARM based cores that we generally see in MediaTek and Snapdragon SoC and can support Hyperthreading as well. Each core can executes 2 threads at a single time, which will make it capable of handling more heavy lifting as compared to a conventional dual core SoC.
The RAM capacity is 1 GB and its among rare few phones in this price segment with 1 GB RAM, and the only global brand to offer 1 GB RAM for efficient multitasking in this budget android phone.
Camera and Internal Storage
Imaging segment is nothing special. The 5 MP rear camera without LED flash gives average performance, but its still better than fixed focus. Initial shots displayed ample noise and not so good details. The front camera is nothing much to boast about, but its there. We don't hold high photography expectations in this price segment and thus, its not a big disappointment. Zenfone 4.5 which will arrive sometime later with similar hardware will come with LED Flash as well.
The internal storage is 8 GB and again, this is the only phone which comes with 8 GB internal storage in this price range. Most phones come with 4 GB nand flash storage. The nand flash memory slows down when its fully loaded and thus its advisable to keep around 20 percent storage free at all times, and thus at least 8 GB internal storage should be provided for loading apps and their data.
User Interface and Battery
Asus Zenfone  4 runs Zen UI on top of Android 4.3 jelly bean, which means you will have support for android wear devices and most other apps on playstore. The OS is upgradeable to Kitkat, but no Kitkat update has been promised. We found the UI to be very neat and simple to use. In our initial time with the device, there was no noticeable UI lag.
Battery capacity is 1600 mAh, which sounds ok. We will comment more on the battery backup after our full review, but on paper battery capacity is above average. Unlike other phones in Zenfone series, Battery is removable.
Asus Zenfone 4 Photo Gallery
Conclusion
The Asus Zenfone 4 is global branded device which packs more than decent hardware at a budget price range. It is definitely among the best phones that we have come across with a sub 6,000 INR price tag and does offers solid value for your money. If you want a slightly bigger display  you can wait for the upcoming Zenfone 4.5. Its great news that tier one players are now focusing on entry level segment in countries like India.