Apart from flagship Mi3 which will take on Moto G , Xiaomi also introduced Xiaomi Redmi 1S to take on Moto E with the same 6,999 INR price tag. At first glance you will notice Snapdragon 800 quad core, 4.7 Inch IPS LCD display and 8 MP camera. Needless to say, this is a lot of bang for bucks, but is the awe-inspiring experience limited to on paper aspect or will it translate into meaningful experience? Let's find out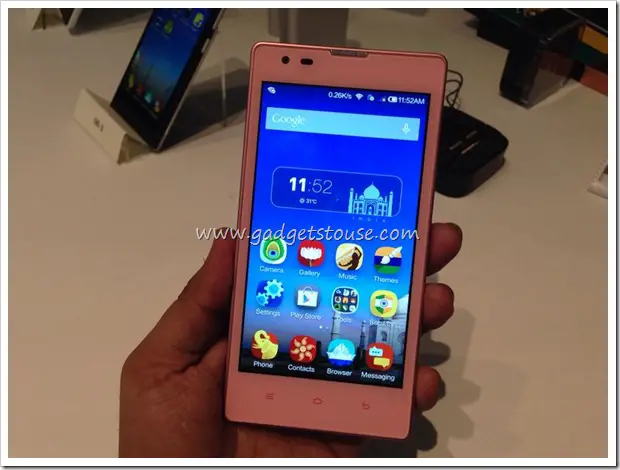 Xiaomi Redmi 1S Quick Specs
Display Size: 4.7 Inch  IPS LCD, 1280 X 720p HD resolution,  312 PPI, Corning Gorilla Glass 2 protection
Processor: 1.6  GHz Quad Core Snapdragon 400 MSM8228 processor with Adreno 305 GPU
RAM: 1 GB
Software Version: Android 4.3 Jelly bean based MIUI ROM
Camera: 8 MP, Can record 1080p Full HD videos
Secondary Camera: 1.3 MP, can record 720p Videos
Internal Storage:  8 GB
External Storage: 32 GB using MicroSD card
Battery: 2000 mAh
Connectivity:  HSPA+, Wi-Fi, Bluetooth, aGPS,  Micro USB 2.0
Dual SIM (Both Normal SIM)
Design, Build and Display
Xiaomi Redmi 1S is mostly plastic, but it's definitely well build and sturdy device; nothing too glamorous. It's feels a bit chunky and heavy for our taste, and the red capacitive button also felt odd. The build quality reminds us of Oppo Joy, which is not a bad thing. The back cover is removable and houses two Normal SIM cards and MicroSD card slot.
The IPS LCD display is sweet 4.7 inches in size and sports 720p HD resolution, but the display isn't as good as the one we saw on Moto E. MIUI ROM allows you to tweak colors and saturations according to your taste, but there is no work around for not-so-good viewing angles and average display brightness. Considering the price tag, we have no grippe with the moderate IPS LCD panel, you could do a lot worse than this one.
Processor and RAM
Processor used is Snapdragon 400 quad core clocked at 1.6 GHz which sounds like a great deal in this budget device. The performance with 1 GB RAM was fairly smooth in our time with the device, but that might falter in the long run, especially because the phone is running MIUI ROM and not stock Android. Again, you get what you pay for, but if you use several apps throughout your day, perhaps you might be left wanting for more.
Camera and Internal Storage
The 8 MP rear shooter is the highlight of this device. The camera performance exceeded our expectations in initial testing, and since this is one of the most important trait for a quotidian user, we are happy. The good low light performance might be attributed to large 1.4 micrometer pixel size in the BSI sensor which can absorb more light. Front 1.3MP camera was above average performer.
The Internal storage is 8 GB, which is again something that we like. The storage can be further expanded by another 32 GB using MicroSD card slot. Out of 8 GB, you will get around 6 GB free on first boot.
User Interface and Battery
The user interface is MIUI ROM which will feature several India specific themes and loads of features. Unlike the other two Xiaomi devices which are running customized Android 4.2 Jelly bean, Redmi 1S will use Android 4.3 Jelly Bean AOSP as its base, which means you will get the advantage of FSTRIM, which will improve and maintain your Nand Flash performance in the long run.
Battery capacity is 2000 mAh but we will have to spend more time with Redmi 1S to know how long that will last. Xiaomi hasn't provided with any battery stats so far.
Xiaomi Redmi 1S Photo Gallery
Conclusion
Xiaomi Redmi 1S is a better Moto E challenger as compared to Zenfone 4.5. It has a good 8 MP unit, more than decent build quality, a powerful chipset and a 4.7 inch display working in its favour. The handset will be available for purchase soon on Flipkart for 6,999 INR. We are optimistic that the refined hardware will translate to good user experience in the long run.