In an attempt to make the Maps navigational service more useful, Google has announced Google Maps in Hindi. Thereby, users of the same can see Hindi names for cities, significant roads, localities and popular points of interest such as schools and public parks on Android devices running on Android 4.3 and above and desktop.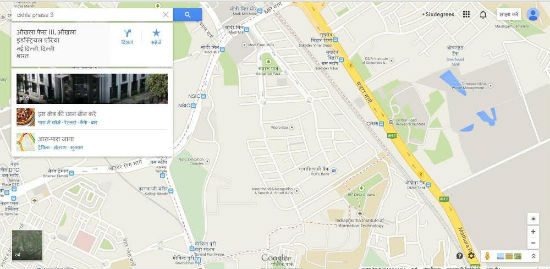 To view the Hindi name labels on Google Maps, users will have to enable Hindi as their preferred language on their respective devices. Using a desktop, the language preference can be changed via the Google account settings or by selecting the Hindi option at the bottom of the page. Using an Android device, the same can be done by selecting the Hindi option in the 'Language and Input' menu option in the device's Settings menu.
Soon after choosing the preferred language, users can see Hindi names on map instantly. It is claimed that the new labels have been created by transliterating or translating the English names to Hindi to make sure that they do resonate with the local dialect.
Regarding the launch, Suren Ruhela, Director Product and Program Management, Google said, "Google is committed to making its products more useful for people in India and creating comprehensive maps is a crucial part of helping Indian users access information about parts of the country that are unfamiliar to them. By launching Google Maps in Hindi today, hopefully Indians can explore and navigate the world around them more easily, whether these are people who already use Maps to find their way around day-to-day or Hindi-speakers coming online for the first time."