Android being the dominant operating system has many interesting aspects. One such aspect of the platform is the ability to easily tweak numerous traits of the software. The list of customizable options include home screens, lock screen, icons, applications, widgets and settings. The advantage is that you can get under the hood of the platform simply unlike in its competitor iOS that requires jailbreaking.
If you are trying to transform the looks of your Android device's home screens in order to make it very different with unique looks, here we have listed out some of the necessary tools for the same. The highlight is that these customizations can be made without rooting your Android device. Check them out below:
Installing a Launcher
The first and foremost option of customizing the Android device's looks in none other than using a popular launcher. This is the best option to transform the looks of your device's home screen effortlessly. The launchers can tweak the icon sizes, app drawers, screen layouts and also help in displaying or hiding such notification bar and Google search widget.
Whenever you install a launcher on your Android device, you will be provided with an option to use it as the default launcher. If at anytime you feel that you are done with the customization, u can revert back to the original launcher and all your customizations will be undone.
If you are not aware, the Apex Launcher and Nova Launcher are the most popular launchers that are available in the Google Play Store. Both the applications are compatible with those devices running on Android 4.0 Ice Cream Sandwich or higher versions of the operating system. Also, you can try using the free versions of these launchers before you upgrade to the paid premium versions to experience all the aspects that they pack.
Another popular launcher is the SSLauncher that shuns the grid based layout that the Apex and Nova launchers provide. This launcher is compatible with those devices that run on Android 2.2 and above making them suitable for older generation models as well.
Build Shortcuts and Widgets
After installing a launcher you will definitely witness a modified look as far as your home screen is concerned as it will change the size of the icons and widgets. Also, it will help in hiding any element such as the dock if you do not want to see it. While these aspects are basic, you can dig deeper as well by creating you own widgets and icons based on your requirements.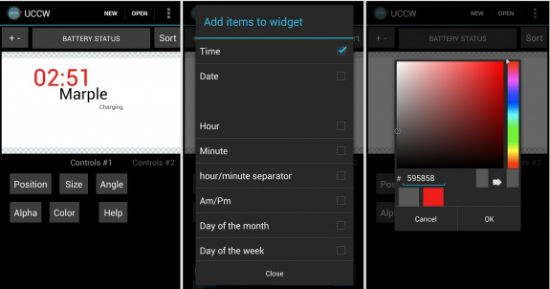 Without rooting your device or installing a custom ROM, you can carry our some implausible tasks that will shape up your phone the way you want it to. One such popular app that helps you in doing the same is the UCCW or Ultimate Custom Widget. This widget lets you place customized battery meters, custom clocks and more right on your home screen. The highlight of the app is that it will make the difficult customization process easy and simple.
Some of the possible things that can be done with UCCW are creating a custom icon for any desired app such as Gmail, setting up an entire home screen to launch Facebook, Few other tools that will prove to be handy in customizing the looks of your Android device are Desktop VisualizeR that will enable you to create shortcuts and icons as per your choice, WidgetLocker that offers a stack of options for customizing the lock screen, Simple Text to convert your app icons into text and Missed It! For customizing your notification alerts.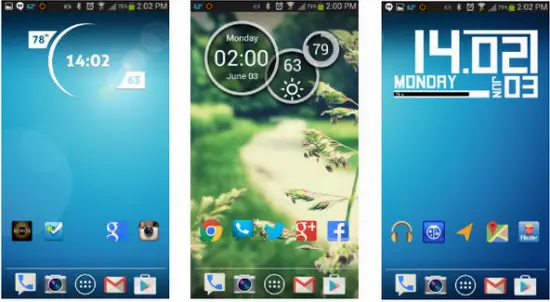 Colorful Themes
Once you are done with using a launcher to modify the settings and looks of your home screen and a widget to create your own designs to add to its framework, there is a final touch to be given to your device. It is none other than adding more color to your device with pre-designed icons and themes that are found on the Play Store and websites such as MyColorScreen and DeviantArt.
These websites can assist in transforming the look your Android phone or tablet with colorful and vibrant themes. Also, the Power Toggles will replace the usual set of widgets such as Bluetooth and Wi-Fi and Beautiful Widgets Free for some striking weather and clock graphics.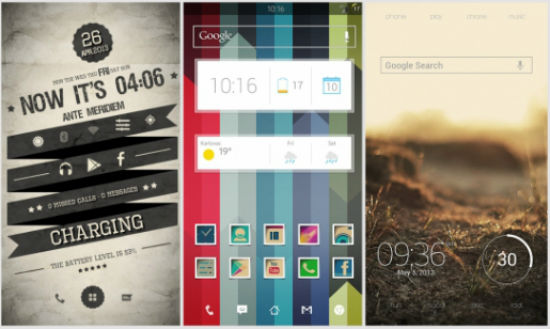 The ThemerApp is a simple on that can help you swap the entire layout of your device with the touch of a button. It is a free app in the Play Store and it acts as a library of custom designs.
Conclusion
Of course, these applications that we have mentioned above will help you change the layout of your device's home screen and lock screen, creating widgets of your choice and transforming the looks with colorful themes, there are a plethora of them in the Play Store. Some of them worth checking out are the HD Widgets, Zooper Widgets, ADW.Launcher, Go Launcher EX and Lightning Launcher.