Motorola has refreshed its high end Moto X as well and while the last years dual core Moto X surprised us with high end performance, the new one has powerful and glittering Hardware to support its claims. The new Moto X will arrive in India sooner rather than later and here is initial experience with Motorola's premium device.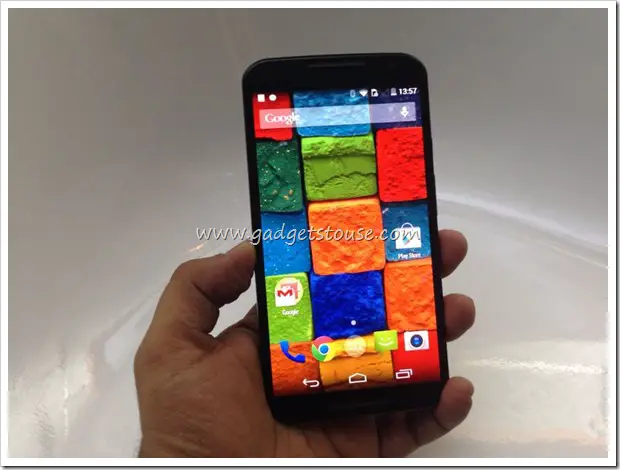 Moto X 2014 Quick Specs
Display Size: 5.2 Inch Full HD Super AMOLED, 1920 X 1080 resolution, 423 PPI, Corning Gorilla Glass 3 protection
Processor: 2.5 GHz Quad Core Snapdragon 801 processor with Adreno 330GPU
RAM: 2 GB
Software Version: Android 4.4.4 KitKat, Upgrade gauranteed
Camera: 13 MP camera, 4K video recording
Secondary Camera: 2 MP, 1080P Video recording
Internal Storage:  16 GB/ 32 GB
External Storage: No
Battery: 2300 mAh
Connectivity:  HSPA+, Wi-Fi, Bluetooth 4.0 with A2DP, aGPS, GLONASS,  Micro USB 2.0
2014 New Moto X 2nd Generation Hands on, Review, Camera, Price, Software, Gaming and Overview HD [Video]
Design, Build and Display
The new Moto X has scaled in size and is no longer sweet 4.7 inches, with ultra slim bezels which snugly fit in your hands. Moto X has gone bigger and is appreciably larger at 5.2 inches. Dimensions wise it almost as tall and wide as Moto G and follows the same curves as its predecessor. The thickness varies from as low as 3.8 mm to as high as 9.9 mm and the new Moto X is fully loaded with premium charm and feel.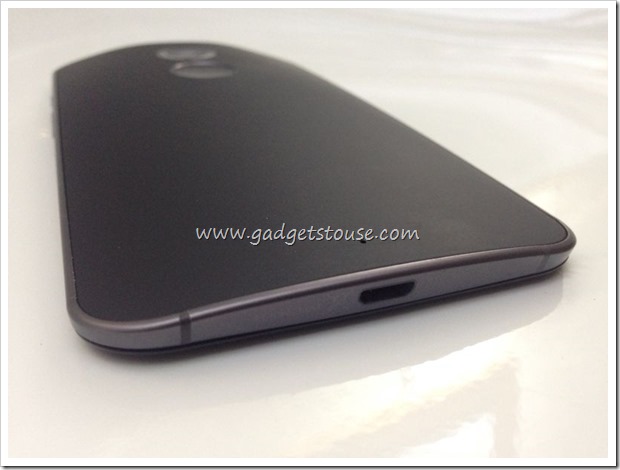 There is only one loud speaker at the front and not 2 as in Moto G. Several options for rear back cover including the new leather design are expected to be available on flipkart as well for some added cost. The standard glass metal back looks good too. At the front there are four IR sensors which aren't very conspicuous and will be used by Moto Actions feature.
The Super AMOLED 5.2 Inch display seemed as good as any in our time with the device. The full HD resolution and better contrast ratio works well for its cause. It clearly outshined Moto G, but that won't be a fair comparison as both devices lie in separate league.
Processor and RAM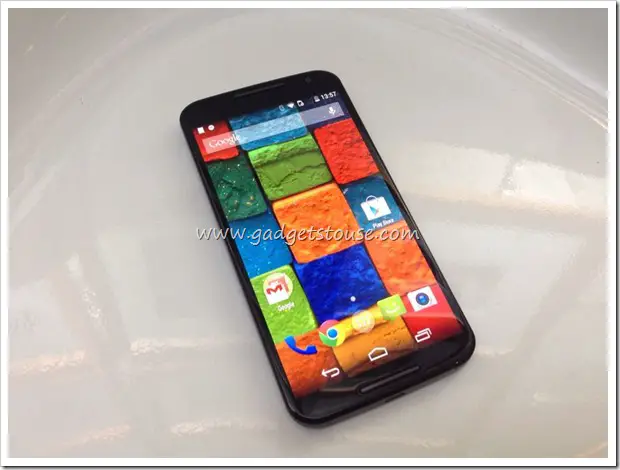 Instead of customized dual core and X8 computing, this time Motorola has opted for the more conventional way and has chosen the Snapdragon 801 quad core clocked at 2.5 GHz with Adreno 330@578 MHz, Coupled with 2 GB RAM and almost stock UI, there is no reason to be cynical about the performance as compared to other 2014 flagships.
Camera and Internal Storage
The 10 MP clear pixel camera wasn't much appreciated in Moto X last year and this time Motorola has improved upon that. The refreshed Moto X carries a 13 MP rear camera which performed really well in our initial testing. You can launch the camera app by shaking your Moto X same as before. The rear camera can record up to 4K resolution videos, but you won't be recording many due to memory limitations. The front 2 MP shooter can record full HD videos as well.
Internal storage is 16 GB out of which 10 GB is available at users end. There is no separate partition or apps and We are not yet sure if Motorola will launch the 32 GB variant in India.
User Interface and Battery
Moto X already had some clever and subtle software tricks up its sleeves and with the new verison, things have further improved. New features include Moto Action, which uses four IR ports at the front to recognize gestures and Attentive display which keeps the display powered on when you are looking at the screen.
The software is almost stock Android 4.4.4 Kitkat with the next update guaranteed. The added features are expected to make your life simpler.
Battery capacity has been marginally improved and now stands at 2300 mAh. On paper this seems decent enough, but we believe the battery backup could have been better. We will talk more about that in our full review later and test how heavily the new software features will tax and affect battery performance.
Moto X Photo Gallery
Conclusion and Price
Moto X combines great hardware with clever software and perhaps several customization options. It will compete with other flagship phones and might bear the brunt of subsidized price tags by Chinese manufacturers like Xiaomi and OnePlus. Moto X looks and feels like a premium high end device in most aspects.