Apple is well renowned for selling priciest smartphones, while Google's Nexus series of devices are known to bring high end hardware to an aggressively low price-point. The comparison between 2 year old Nexus device and the latest iPhone might seem out of place but that's what has gone viral over the internet since Apple launched iPhone 6. Of course its an unfair comparison and in spite of what gullible readers see circulated on the web, the content isn't meant to be taken seriously.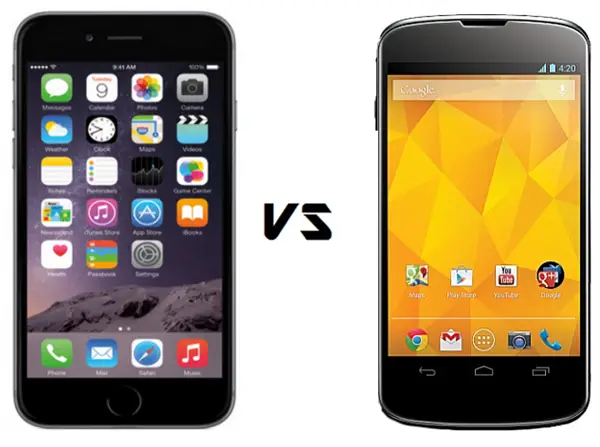 Display and Processor
The Nexus 4 was launched couple of years back with a 4.7 inch IPS LCD display with 1280 x 720 p HD resolution. The display wasn't the highlight of the device and in fact, it doesn't out shine Original Moto G in modern perspective.
Apples retina displays on the other hand have been among the best IPS LCD display panels. iPhone 5s had a magnificent display we are excited to see how much more apple has improved the contrast and viewing angle by using skewed pixel matrix and improved polarizer this time. iPhone 6 will feature slightly more 750 x 1334 pixels on a 4.7 Inch display. Apple is getting some well deserved backlash for embracing larger display size after shunning it years back.
On the processor front, Apples custom designed chipsets have been among the best ones out there irrespective of their cores. 1.3 GHz dual core Apple A7 Cyclone can execute 6 instructions per cycle is insanely powerful, While with iPhone 6 A8 SoC Apple claims further 25 percent improvement in CPU performance. The Nexus 4 on the other hand comes with
Camera and Internal Storage
Nexus 8 has an 8 MP primary camera capable of full HD video recording and a 1.3 MP front camera as well for video calling and selfies. The same is true for iPhone 6 as well but the 8 MP rear sensor has larger f/2.2 aperture and bigger 1.5 Micrometer pixels. iPhone 5s had one of the best smartphone cameras and iPhone 6 isn't expected to be any different.
16 GB internal storage variant is still retailing in India, while the iPhone 6 will retail in 16 GB, 64 GB and 128 GB variants. Storage is not expandable for both devices.
Battery and Other Features
The Nexus 4 houses a 2100 mAh battery capable of 15 Hours of talk tme and 390 hours of standby time. The iPhone 6 on the other hand houses a 1800 mAh battery with 250 hours of standby time and 14 hours of 3G talk time. Nexus 4 competes head to head with iPhone 6 in this regard, in spite of being 2 years old.
The latest iOS 8 borrows several features from Android Kitkat running on Nexus 4 including widget support (in notifications), Third party keyboards and automatic Cloud storage via default camera app. Both operating systems are very different from each other with iOS being more resource efficient and Android being more customizable – To each his own.
Android embraced NFC long time back, but NFC payments were introduced with Android 4.4 Kitkat, host card emulation support, but NFC payments haven't materialized into anything meaningful yet. Apple pay which combines fingerprint sensor, NFC Chip and several other layers of security can potentially change that in next couple of years.
Key Specs
| | | |
| --- | --- | --- |
| Model | Apple iPhone 6 | Google Nexus 4 |
| Display | 4 Inch , HD (740 x 1334) | 4.7 Inch HD (720 x 1280) |
| Processor | Apple A8 | Qualcomm 1.5 GHz Quad Core |
| Internal Storage | 16GB | 16 GB/ 64 GB/ 128 GB |
| OS | iOS 8 | Android 4.4 KitKat |
| Camera | 8 MP/ 1.3 MP | 8 MP/ 1.2 MP |
| Battery | 1800 mAh | 2100 mAh |
Conclusion
The Nexus 4 was one of the best smartphones of its time but it doesn't pack enough punch to take on latest iPhone 6. The price difference also puts them in separate league. You might find ample resemblance in spec sheet and features on paper, but the similarity is mostly limited to paper only. Specs are overrated.