With the advanced compression technology of Opera, the Opera Mini mobile browsers in India have been able to use 75 percent less mobile data in the H1 2014, claims a report by Opera Software. This reduction in the mobile data consumption translates to a monthly nationwide saving of Rs 350 million per month and a whopping Rs 2.1 billion in the first half of the year.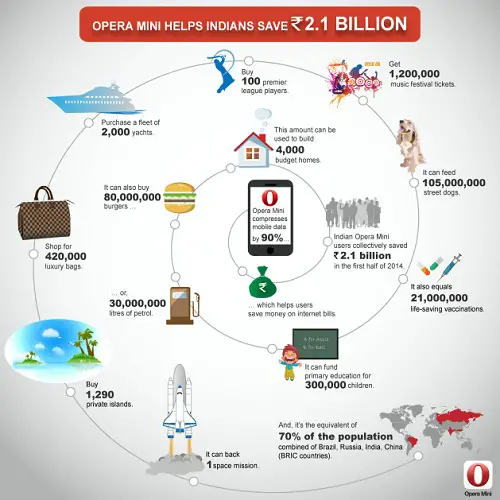 The report reveals that the Java based phone users save an average of 81 percent of mobile data per month, whereas the smartphone users save up to 69 percent. When it comes to the latter, the Android phone users save up to 68.5 percent data per month, while the iOS users save approximately 62 percent of the data. These figures are based on the aggregated details that are gathered from the Opera Mini servers.
These savings are made possible with the advanced compression technology of Opera Mini browsers that shrink the webpages down to about 10 percent of their original size thereby reducing the data consumption by around 90 percent. This will in turn render faster webpage loading even while roaming or in those places with bad network conditions.
Regarding this, Sunil Kamath, Vice President for Southern Asia at Opera Software said, "We understand how precious mobile data is for Indian consumers, and that's why our servers work very hard to shrink every bit of data possible for Opera Mini users. It's indeed gratifying to see that this translates into such gigantic savings for our Indian users. This is, however, only the tip of the iceberg. We are confident Opera Mini can help Indians save billions more."