Following Karbonn, another India based vendor Spice that is one of the hardware partners to make Android One smartphones has come up with a teaser. Spice also claims that it will be launching a new smartphone on September 15 at 3:30 PM and has partnered with the e-commerce portal Flipkart to exclusively sell this smartphone.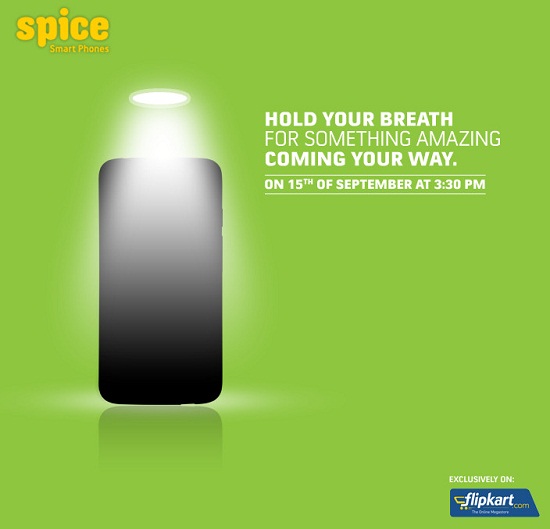 Spice's teaser shows a smartphone and it reads, "Hold your breath for something amazing coming your way." As of now, there is no clear picture on the specifications or the final moniker of this Spice smartphone.
As Google is holding an event in India on September 15 and as the Android One partners are launching new smartphones on the same day, it is evident that the Android One devices will be announced on Monday. Following the same, the upcoming Spice smartphone will be based on the reference model that include a 4.5 inch display, dual SIM support, micro SD card slot and FM Radio.
While Karbonn and Spice have revealed their plans for the following week, Micromax still remains tight lipped about the same.
Google is hosting an event on Monday that should be for the launch of the Android One smartphones priced between Rs 7,000 and Rs 10,000. The smartphones in this initiative will be based on the reference hardware and stock software making them alike.