Google has launched its Android One project in India and the first three Android One phones are already retailing for around 6,300 INR. Since only difference between the three is outward appearance we have covered the queries about all three in this single post.
Android One Phones Quick Specs
Display Size: 4.5 inch IPS LCD capacitive touch screen with 480 x 854 resolution
Processor: 1.3 GHz Quad Core MediaTek MT6582
RAM: 1 Gb
Software Version: Android 4.4.4 (Kit Kat) OS
Camera: 5 MP AF camera
Secondary Camera: 2 MP front-facing camera FF [Fixed Focus]
Internal Storage: 4 GB with 2.2 GB user available
External Storage: Expandable up to 64GB
Battery: 1700 mAh battery Lithium Ion
Connectivity: 3G, Wi-Fi 802.11 b/g/n, Bluetooth 4.0 with A2DP, aGPS, 3.5mm audio jack, FM Radio
Others: OTG Support – No, Dual SIM – Yes, LED Indicator – Yes
Question – Does Google Android One Phones have Corning Gorilla Glass Protection?
Answer- No, you will have to rely on scratch guards bundled in the device to protect display against scratches
Question – What comes inside the Box?
Answer- Box includes Scratch Guard, 1 Ampere Charger, USB cable, documentation and headphones. Canvas A1 will come with a free 8 GB MicroSD card.
Question – Does Google Android One Phones have heating issues?
Answer – No, we didn't observe any unconventional heating. These phones aren't meant for high end gaming and we didn't observe any issue in day to day operation.
Question –What size SIM card is supported? Do both SIM support 3G?
Answer – Android One Phones accepts 2 Mini SIM cards and BOTH SIM slot supports 3G.
Quick Buy Now Android One Phones
Micromax Canvas A1 – http://goo.gl/0pqAqh

Karbonn Sparkle V – http://goo.gl/7tpPn3

Spice Dream Uno – http://goo.gl/R58DUP
Question – How is the call quality?
Answer – We didn't face any issue regarding signal reception or call quality.
Question – Does it have LED notification light
Answer – Yes, It does have LED notification light
Question – How much is Free Storage?
Answer – Out of 4 GB about 2.2 GB is available at user end. You can also use up to 32 GB MicroSD card as well.
Question – Can Apps be transferred to SD Card
Answers – Yes, you can move app data and some apps from internal storage to SD card. Media and application data can be stored on SD card.
Question – Do on screen Navigation significantly reduce effective display size?
Answer –  Yes, the display is slightly smaller than other 4.5  Inch display devices, but with immersive mode these software navigation keys aren't bothersome.
Question – Does it support USB OTG?
Answer – No, Google Android One Phones do not supports USB OTG
Question – How is the Display of Android One Phones?
Answer – 10 point multi touch IPS LCD display is 4.5 inches in size with FWVGA resolution. The display isn't the best in this price range, but it is very usable. Touch is smooth, we didn't notice any pixilation of any sorts. Text was crisp. Viewing angles are ok.
Question – How is the Build Quality?
Answer – All three Android One smartphones differ in build quality. The front side is same on all the three and the main conspicuous difference on the rear side is the camera module. On the whole the build and design is very basic, but all three feel good to hold in hand.
Question – How is the Camera Quality?
Answer – The 5 MP shooter at the rear is capable of clicking some good day light shots. Details aren't very good especially in low light conditions. Overall, the camera won't be a deal breaker at the respective price point. The front facing shooter is a fixed facing unit which is average performer. Both camera's can record HD videos.
Google Android One Karbonn Sparkle V Rear Camera Video Sample 1080p at 27 fps
Question – How much Did Android One Phones score on Antutu and Nenamarks 2?
Answer – Antutu Score is 18,146 and Nenamark Score is 63.5. Although benchmark scores are great, due to memory limitation, the phone didn't allow us to download most high end games (anything above 300 MB). Casual games like Temple Run OZ run well on the device.
Question – How many sensors does Android One Phones have?
Answer – All three phones have Accelerometer, Proximity sensor, Light Sensor, Gyroscope, Orientation sensor, Magnetic Field sensor, motion sensor, rotation vector sensor, Gravity sensor and linear acceleration sensor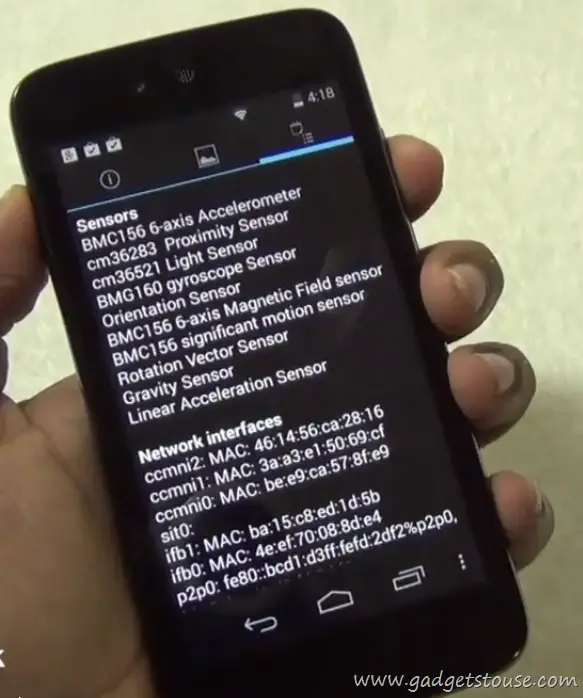 Question – How much RAM is available on first boot?
Answer – Around 600 MB RAM is free on first boot. The interface is very responsive.
Question – How is GPS Locking?
Answer – GPS locking is good both indoors and outdoors.
Question – How Loud is Loudspeaker on Android One Phones?
Answer – Loudspeaker is good. Loudness doesn't reduce drastically when the phone is resting on its back. We are satisfied with the loudspeaker performance.
Question – Can Google Android One Phones play Full HD 1080p Videos?
Answer – Yes, it can smoothly play full HD and HD videos. HD playback is smooth but Full HD videos didn't play as smoothly.
Question – Can Android One Phones be connected to Bluetooth headsets?
Answer – Yes, you can connect it to Bluetooth headset
Question – Is WiFi Display supported?
Answer – Yes, WiFi display is supported
Questions – How is the Battery backup?
Answer – Battery backup isn't great but basic users can manage 1 day average usage. There is 1700 mAh removable battery which can last up to 4 hours of continuous usage.
Google Android One Dream Uno Unboxing, Full Review, Camera, Benchmarks, Gaming and Overview HD
Conclusion
Android One smartphones aren't the best in terms of hardware but basic users won't find much reason to complain at this price point. The highlight is of course the Google controlled latest Android software with assurance of timely updates. In case you have any more questions let us know in the comments section below.
FAQ Google Android One Spice Dream Uno, Available Storage, Free RAM, Wireless Display, Wifi Hotspot