BlackBerry Passport is indeed a unique device and we like different. The smartphone however, isn't meant for everybody. BlackBerry is targeting 30 percent corporate market, but there are features everyone can benefit from. We got to spend some time with the Passport at the launch event in New Delhi, India and here are our first impressions.
BlackBerry Passport Quick Specs
Display Size: 4.5 Inch 1440 X 1440 IPS LCD Display, 453 ppi
Processor: 2.3 GHz Snapdragon 800 Quad Core with Adreno 330 GPU
RAM: 3 GB
Software Version: BB10.3
Camera: 13 MP camera, Optical Image Stabilization, LED flash, 1080P Recording at 30 fps
Secondary Camera: 2.1 MP
Internal Storage: 32 GB
External Storage: 64 GB
Battery: 3450mAh
Connectivity: 4G LTE, HSPA+, Wi-Fi 802.11 b/g/n, Bluetooth 4.0 LE, SlimPort, aGPS, GLONASS, NFC
BlackBerry Passport Hands on Video Review
Design, Display and Build
The square design will make heads turn for sure. The unusual design and form factor is the key highlight of this smartphone but that also makes one handed usage difficult. Based on our personal taste, we liked the broad screen because it makes a significant difference to web browsing experience and reading stuff on your phone which fits well with our usage.
The physical keyboard is touch enabled with three rows for all alphabets. For punctuation and numbers a fourth row is present on the display. There are several swiping gestures which you can use, which aren't exactly new for Android users, but will make a difference since this time they are on physical keyboard.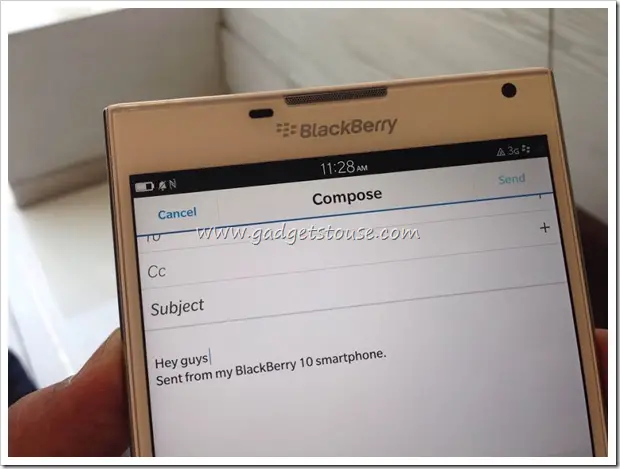 Swipe left to delete, Swipe up for suggestions, etc are some gestures which we also saw on LG G3 keyboard. Seasoned BlackBerry typist will take some time getting used to this new format, but it will definitely help you get more work done on your mobile. BlackBerry has used premium quality material and it feels quite sturdy, however, while typing, the Passport felt quite bulky in our hands.
The display is sharp and crisp with great viewing angles and colors. If you count total pixels, the number is same as on 1920 x 1080p display but the arrangement is different (1440 x 1440). On the whole, we liked the display on BlackBerry Passport.
Processor and RAM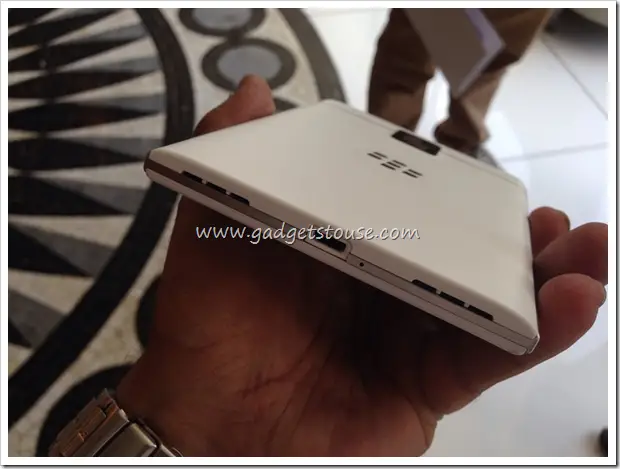 The processor used is 2.3 GHz Snapdragon 800 quad core with Adreno 330 GPU and 3 GB RAM. The chipset has proven itself, to comfortably handle full HD resolution, time and again. In our time with BlackBerry Passport, UI transitions were very fast and we didn't find any lag on the device. With 3 GB of RAM this is expected to hold true in the long run as well.
Camera and Internal Storage
The 13 MP rear shooter seems good in our initial testing. You can record 1080p videos and even the low light shots show good details. The front 2.1 MP shooter is again good, but doen't match what high end Android flagships are offering.
Internal storage won't be an issue either. BlackBerry Passport offers 32 GB of Native storage with 64 GB MicroSD storage. This sounds like ample storage space for target enterprise audience.
User interface and Battery
User interface is BB10.3 OS with some new highlighted features being, BlackBerry Assistant and BlackBerry Blend. we weren't able to test these features extensively at the launch event and will verify where they stand in comparison to Google Now, Siri or iOS Continuity after our full review. Amazon App store and BlackBerry world comes pre installed on the device.
Extra width has made room for a massive 3450 mAh battery in BlackBerry Passport. BlackBerry claims 30 hours of usage time and this might very well be true. We will confirm these claims after our full review, but we are optimistic.
BlackBerry Passport Photo Gallery
Conclusion and Price
BlackBerry has a clear cut intention with BlackBerry Passport. It doesn't try to appease everyone, but enterprise users and productivity based users those who like to read more on their smartphone. We liked what we saw in BlackBerry Passport, but we will have to spend more time with it and its keyboard to know if it sails as smoothly as BlackBerry claims, even with the odd form factor. BlackBerry has already sold its initially listed Passport stock and this good be a game changer for BlackBerry. You can book BlackBerry Passport from Amazon.in for 49,990 INR starting today. Shipping starts on 10th October, 2014.